Advanced Info Service Public Company Limited (ADVANC) has announced its 3Q21 consolidated financial statement through the Stock Exchange of Thailand as follows;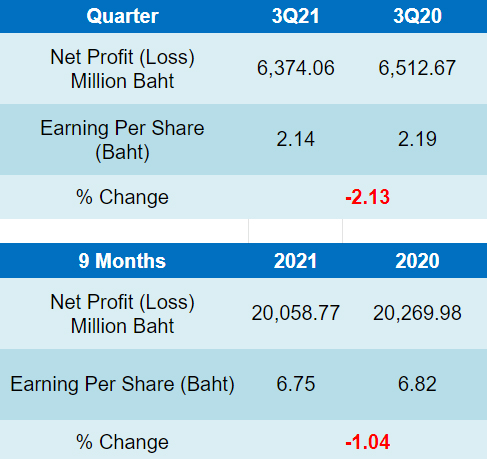 In 3Q21, ADVANC's net profit was 6,374 million baht, decreasing -2.1% YoY mostly due to unrealized foreign exchange loss and increase in D&A and -9.5% QoQ from one-time  income in 2Q21. Excluding foreign exchange effect and the one-time item (after tax), normalized net profit increased 0.9% YoY but decreased -0.7% QoQ.
EBITDA was 22,888 million baht, increasing 3.6% YoY following increase in core service revenue and ongoing cost optimization while decreasing -0.5% QoQ due to higher cost of service from 5G investment.
Meanwhile, a total revenue was 42,377 million baht, increasing 1.6% YoY underpinned by robust growth in FBB and enterprise businesses, but decreasing -0.9% QoQ from a decrease on handset sales due to distribution channel lock down.
Fixed broadband revenue was 2,189 million baht, increasing 23%YoY and 7.4% QoQ due to strong subscriber demand in working and studying from home, partially offset by continued low price offering to address weak consumption which lowered ARPU.
AIS Fibre continued to ramp up with net addition of 133k subscribers in 3Q21. Increased demand for home connection during the pandemic has boosted the subscriber growth to 1.67 million, exceeding ADVANC's target of 1.6 million subscribers by the end of this year. However, intense competition resulted in ARPU to dropped -5.9% YoY and -0.5% QoQ.