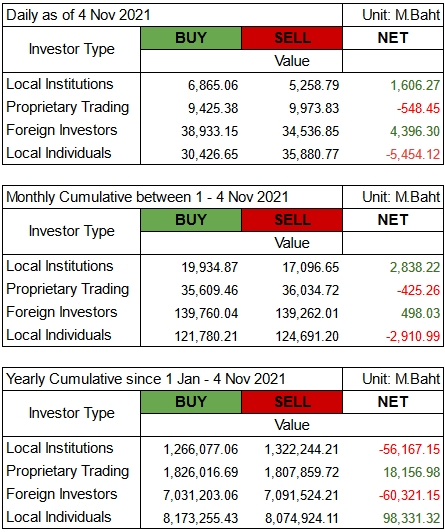 – SET Index closed at 1,626.27 points, increased 14.35 points or 0.89% with a trading value of 85.6 billion baht. The analyst stated that the Thai stock market and other foreign markets edged higher on the Fed's patient move over the rate hike, seeing that the rising inflation will be short, which led to the decision to be patient on the policy rate.
The analyst recommended investors to continue monitoring the 3Q21 earnings, expecting the market to gradually rise with a support level at 1,620 points and a resistance level at 1,630 points.
– Foreign Investors net bought Thai shares nearly 4,400 million baht, while Local Institutions added another 1,606 million baht to buoy SET Index by 14 points.