Global Power Synergy Public Company Limited (GPSC) has announced its consolidated financial statement through the Stock Exchange of Thailand as follows;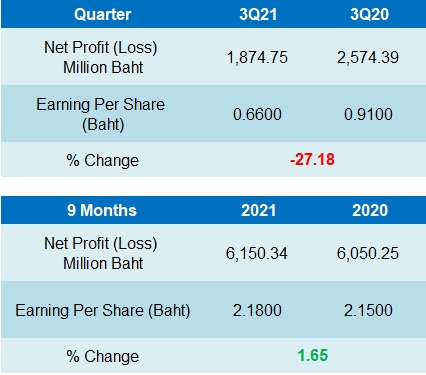 GPSC reported a net profit of 1,874 million baht in 3Q21, decreased 27.18% from a net profit of 2,574 million baht in the same period of last year, which was mainly due to gross profit of SPP business decreased following to higher natural gas and coal price, and Glow Energy Phase 5 had unplanned outage since 14 August 2021 although electricity and steam sales volume increased.
In addition, IPP's gross profit decreased as a result of GHECO-One's unplanned outage for 28 days. However, there was an increase in shares of profit from Xayaburi hydro power plant according to higher water level than the same period of last year.
The company recognized synergy value from the acquisition of GLOW amounting 432 million baht (after tax) in 3Q21, mainly from operation and maintenance – power and steam network integration, commercial activities especially cost optimization, production and expanding customers base as well as procurement and maintenance management.
GPSC stated that the Energy Regulatory Commission (ERC) announced to maintain the fuel adjustment charge (Ft) for the invoice during September – December 2021 which resulting in the Ft of -15.32 Satang/unit for the next four months. The main reason is to reflect the depreciation of Thai Baht and the rising trend of global crude oil price, while also support users during the period of uncertainty from the COVID-19 pandemic.
In 2022, the Ft is expected to rise as the global economy is set for the recovery from the COVID-19 pandemic, which will lead to higher demand for energy consumption, especially the demand for crude oil. Higher demand for crude oil may thus push up the price of natural gas, which is the main source of electricity generation, to rise.