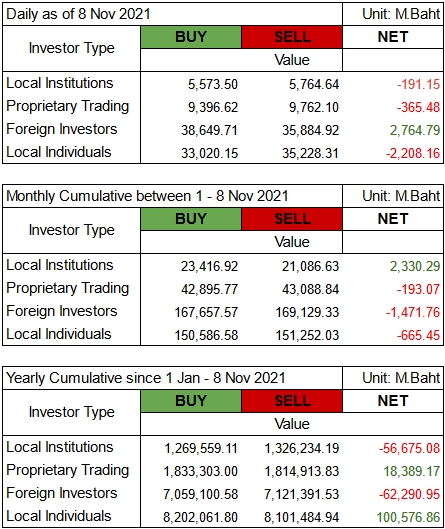 – SET Index closed at 1,626.13 points, decreased 0.09 points or 0.01% with a trading value of 86.6 billion baht. The analyst stated that the fluctuation in the Thai stock market in today's session was led by the power generation stocks and DELTA as some of the earnings of power generators came out lower than expected, which created concerns for the market. Meanwhile, DELTA had nearly 6 points of impact to the SET Index due to concerns over the new measures by the Stock Exchange of Thailand that could potentially push it off the SET50 and SET100 Index.
Nevertheless, the market received buying pressure in the reopening stocks, along with positive energy and banking sector.
The analyst recommended investors to follow the Monetary Policy Committee on the policy rate on November 10 and the MSCI rebalance on the following day, expecting support level for tomorrow's session at 1,610-1,600 points and a resistance level at 1,630-1,640 points.
– Foreign Investors net bought 2,764 million baht of Thai shares to buoy SET Index to close slightly lower.