Jasmine Broadband Internet Infrastructure Fund (JASIF) has announced its 3Q21 consolidated financial statement through the Stock Exchange of Thailand as follows;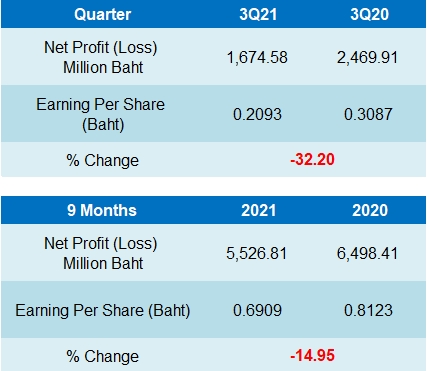 JASIF reported a net profit of 1,674 million baht, decreased 32.20% from a net profit of 2,469 million baht. The decrease in net profit was mainly due to a loss from changes in fair value of investments during the quarter.
Total income for Q321 was 2,540.66 million baht, decreased 0.01% YoY and increased 0.04% QoQ, mainly came from rental income from Optical Fiber Cables of 2,535.95 million baht, no change on YoY and QoQ. Interest income was 4.38 million baht, decreased 11.87% YoY and increased 22.01% QoQ.
JASIF recorded net investment income of 2,174.51 million baht in Q3/21, increased 0.21% YoY and decreased 0.04% QoQ. Losses from changes in fair value of investments was 499.93 million baht. (In Sep 2021, the Fund engaged an independent appraiser to appraise the fair value of the investments. The Fund revalued such investments to be a new fair value of 99,700.00 million baht, resulting in losses from changes in fair value of investments 500.00 million baht from this appraisal). Increase in net assets from operations was 1,674.58 million baht, decreased 32.20% YoY and decreased 19.31% QoQ.
Currently, OFCs transferred to JASIF total 1,680,500 core kilometers. The assets consist of initial assets with the amount of 980,500 core kilometers and additional assets of 700,000 core kilometers. OFCs maintenance fee for the period of 2021 is THB 238.81 per core kilometer per year.
In addition, the Board of Directors approved a dividend payment of Bt0.22 per unit on December 8, 2021, with an ex-dividend date on November 19, 2021.