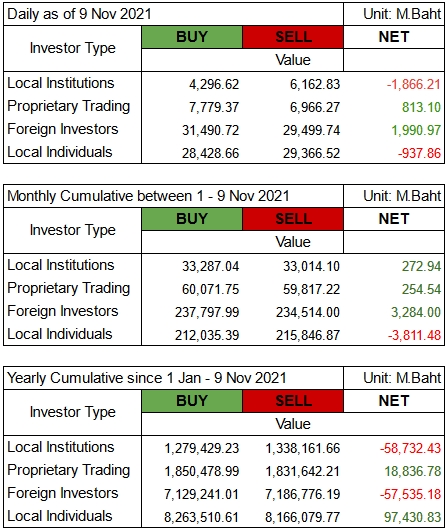 – SET Index closed at 1,631.69 points, increased 5.56 points or 0.34% with a trading value of 72 billion baht. The analyst stated that the Thai stock market moved in sideways trends in the same direction of other stock markets, focusing on each individual factor. Meanwhile, coal and shipping stocks in the Thai stock market edged higher after coal price and freight rate rebounded and high expectations of better 3Q performance.
In addition, the analyst recommended investors to monitor the Monetary Policy Meeting tomorrow and the U.S. inflation reports, giving a support level for tomorrow's session at 1,620 points and a resistance level at 1,635-1,640 points.
– Foreign Investors and Proprietary Trading buoyed SET Index by 5.5pts with a net buy of 2.8 billion baht.