Asian Sea Corporation Public Company Limited (ASIAN) has announced its 3Q21 consolidated financial statement through the Stock Exchange of Thailand as follows;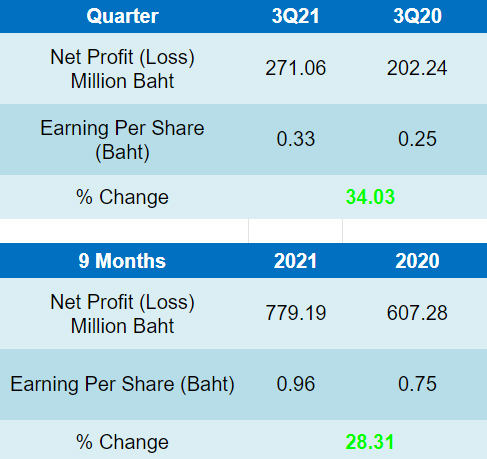 ASIAN reported net profit of THB 271 million in 3Q21, an increase by THB 69 million or 34.0% compared to THB202 million in 3Q20. Earnings per share was THB 0.33 per share (3Q20: THB 0.25 per share). 
Core sales & revenue for the quarter amounted to THB 2,429 million (3Q20: THB 2,371 million) an increase of THB 58 million or 2.5% YoY as driven from pet food and seafood frozen sales but partially offset by falling in aquafeed and human tuna sales. For the period 9M21, ASIAN recorded core sales & revenue of THB 7,025 million (9M20: THB 6,362 million) an increase of THB 663 million or 10.4% YoY thanks to increasing in both pet food and seafood frozen sales.
For the period 9M21, ASIAN's net profit was THB 779 million, increasing by THB 172 million or 28.3% YoY. Earnings per share was THB 0.96 per share (9M20: THB 0.75 per share).
Overall volumes in 3Q21 decreased by 10% to 24,619 tons from 27,361 tons YoY primarily from down in aquafeed because of low shrimp and fish production due to weak household purchasing power from intensified outbreak situation. Meanwhile, TUNA volumes declined from optimizing labor management due to shortage of daily workers and higher freight cost. For the period 9M21, sales volume increased by 1% from last year due to demand of pet food still growing whereas TUNA volume drastically decreased from higher freight cost and shortage of daily workers.
Total revenues (including intercompany transaction) increased by 2% to THB 2,495 million from THB 2,447 million. Highest contributors are from Pet food and Frozen sales represented 82% of total revenues in this quarter. For the period of 9M21, total revenues were THB 7,225 million, an increase of 10% from previous year. Pet food revenue is a major contributor which represented 44% of total revenue and Frozen revenue grew by 16% from THB 2,199 million previous year to THB 2,541 million.