Siam Makro Public Company Limited (MAKRO) has announced its 3Q21 consolidated financial statement through the Stock Exchange of Thailand as follows;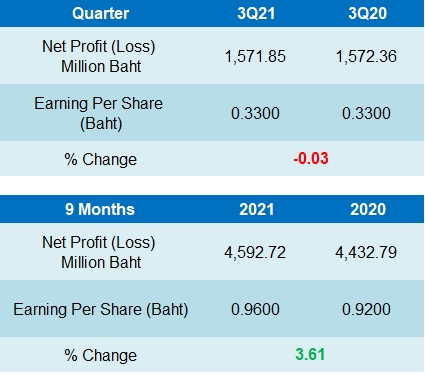 MAKRO reported a net profit of 1,571 million baht in 3Q21 with a flat growth compared to the same period of last year. This was owing to strong improvement of Makro Thailand and Makro International, while Food Service APME contributed a YoY drop in net earnings as a result of the resurgence of the COVID-19 in Vietnam and Singapore.
The company stated that its performance in the third quarter of this year continued to be affected by the COVID-19 pandemic which obviously worsened in Thailand and the countries where the company has business in presence. The resurgence of the outbreak in Thailand and neighboring countries and India nearly the first quarter-end was undeniable causing a burden on the Company's business operation, limiting sales growth and increasing administrative expenses to ensure that Makro staff, customers, business premises as well as goods and products are safe from the COVID-19.
In 3Q21, MAKRO registered consolidated total sales of 53,824 million baht, a growth of 1.7% YoY, primarily due to the sales growth of Makro Thailand and Food Service APME. The resurgence of the COVID-19, particularly in Cambodia led to a YoY drop in sales from Makro International.