PTT Global Chemical Public Company Limited (PTTGC) has announced its 3Q21 consolidated financial statement through the Stock Exchange of Thailand as follows;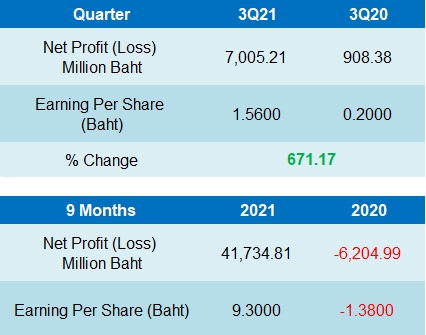 PTTGC reported a net profit of 7,005 million baht in 3Q21, increased 671% from a net profit of 908 million baht in 3Q20.
PTTGC had total sales revenue of 112,173 million baht in 3Q21, increased by 47% YoY. The revenue grows continuously, supported by the rise of petrochemical products price due to the demand recovery and tightening supply from maintenance shutdown, the slowdown in production of some producers in the region as well as the positive direction of petroleum products price which consistently increased following the increased in crude oil price as demand recovery from lockdown restriction of COVID-19 ease.
In terms of sale volume, in this quarter the company's sales volume increased from petrochemical products due to production capacity expansion and the increased in sale volumes of existing production capacity during the quarter, even though there was a decrease in sale volume of petroleum products from maintenance shutdown.
The increase of Crude oil price has a direct impact on raw material cost, especially Olefins and Derivatives products. As a result, in 3Q21, the company had recurring net operating profit recurring (excluding Stock Gain Net Reversal of NRV, Foreign Exchange loss, Loss from commodity hedging) of 8,657 million baht, increased more than 200% from 3Q20.
The company had a share of profit from investments in joint ventures and associates of 1,295 million baht, increased 46% YoY.