Kerry Express (Thailand) Public Company Limited (KEX) has announced its 3Q21 consolidated financial statement through the Stock Exchange of Thailand as follows;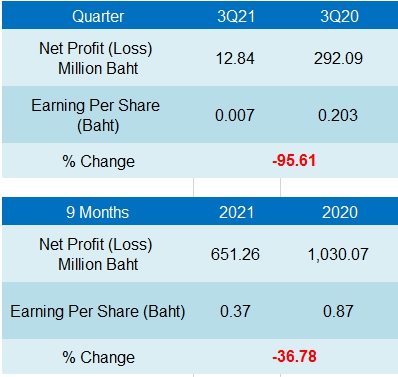 KEX reported a net profit of 12.84 million baht in 3Q21, decreased 95.61% from a net profit of 292 million baht in 3Q20. KEX stated that this was a result of its market leadership and aggressive pricing strategies as well as investment in margins to prepare extra resources to uphold service excellence, prevent operation seizure, and build up new capacity. We expect such aforementioned temporary expenses to gradually decline, as volume acquisition accelerates in line with the company's strategic actions.
KEX marked the highest record of delivery volume in 3Q21, with 48% growth YoY and revenue of 5,331 million baht, increased 18.8% YoY, owing to its successful proactive marketing strategy. Revenue from all customer segments grew, especially those from the C2C segment, thanks to the successful penetration into the economy segment and social communities.
In addition, KEX has been able to secure contract renewals with its major B2B and B2C customers, laying a solid foundation for volume and revenue growth in coming quarters. Meanwhile, costs of sales and services rose by 30.8% YoY from 3,805 million baht in 3Q20 to 4,978 million baht in line with higher delivery volume growth.