Asset World Corp Public Company Limited (AWC) has announced its 3Q21 consolidated financial statement through the Stock Exchange of Thailand as follows;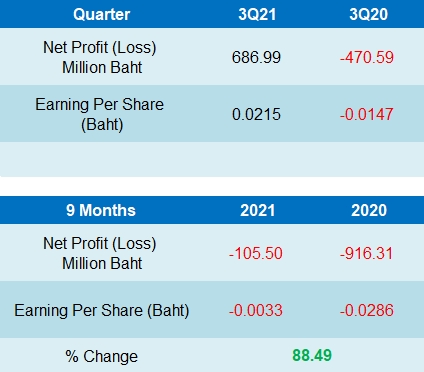 AWC recorded a net profit of 687 million baht in 3Q21, improved from a net loss of 470 million baht in the same period last year.
The company's total revenue as stated in the 3Q21 Financial Statement was 2,539 million baht, increasing by 99.9% YoY, and increasing by 64.2% QoQ, representing the return on real estate investment through normal operations and fair value gains on Investment Properties.
AWC stated that the company had restructured the organizational structure as well as performed the Cost Control and Efficiency Initiatives for effective expenditure management. In 3Q21, the operating expenses were 991 million baht, a decrease of 15.6% YoY and 6.8% QoQ, owing to the company's continued effective cost control.