Central Plaza Hotel Public Company Limited (CENTEL) has announced its 3Q21 consolidated financial statement through the Stock Exchange of Thailand as follows;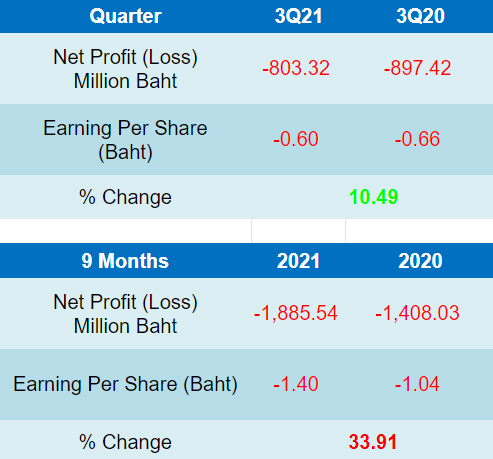 In 3Q21, CENTEL had a net loss of 804 million baht, a loss reduction of 94 million baht, or 10% YoY. The company achieved total revenue of 2,424 million baht, a decrease of 638 million baht, or a drop of 21% YoY, with the proportion of total revenues between the hotel business and the food business being 17% : 83%, while gross profit was 1,255 million baht, a decrease of 17% YoY as a result of revenue drop from the impact of the 3rd wave of the pandemic in Thailand.
However, a gross profit margin improved from 51% of the revenues (excluding other income) in 3Q10 to 54% in 3Q21. CENTEL achieved an EBITDA of 240 baht, an increase of 208 million baht from last year. An EBITDA margin of 10% was an increase compared to last year due mainly to more efficiency in cost management for both hotel and food business, the recovery of hotels in the Maldives, and a discount of rental fees for food business.