PTG Energy Public Company Limited (PTG) announced its 3Q21 consolidated financial statement through the Stock Exchange of Thailand as follows;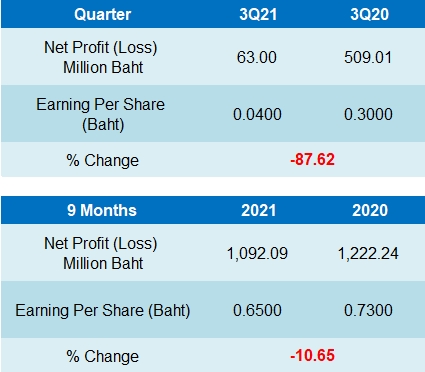 PTG reported a net profit of 63 million baht in 3Q21, decreased 87.62% from a net profit of 509 million baht in 3Q20. The decline in net profit was mainly due to the impact of Covid-19 in the quarter.
The company recorded total revenue in 3Q21 at 30,585 million baht, increased 20.8% YoY mainly due to the revenue from the oil business, which increased 20.8% YoY, caused by an increase in the average oil selling price of 26.4 baht/liter, an increase of 34.5% YoY, due to the increase of WTI crude oil price.
Cost of sales and services was 28,195 million baht, an increase of 24.8% YoY, which mainly from: 1) The oil cost per liter increased since WTI crude oil price in 3Q21 stood at 70.6 dollars per barrel, increased by 72.8% YoY and 7.0% QoQ. However, during September, the oil retail price adjusted in line with the cost, bringing the marketing margin to drop by 3.5% YoY and 3.0% QoQ.
SG&A expenses were 2,109 million baht, an increase of 11.3% YoY. The growth in the expense was mainly to support the expansion of the oil and non-oil businesses. However, PTG still maintains the cost control policy to manage cost effectively to be in line with the current economic situation. The main expenses were still from employee-related expenses and depreciation expenses.
In addition, the revenue from the non-oil businesses continues to grow as PTG recorded 1,413 million baht, a growth of 19.3% YoY. The portion of revenue from non-oil businesses accounted for 4.6% of the total revenue.