Exotic Food Public Company Limited (XO) has announced its 3Q21 consolidated financial statement through the Stock Exchange of Thailand as follows;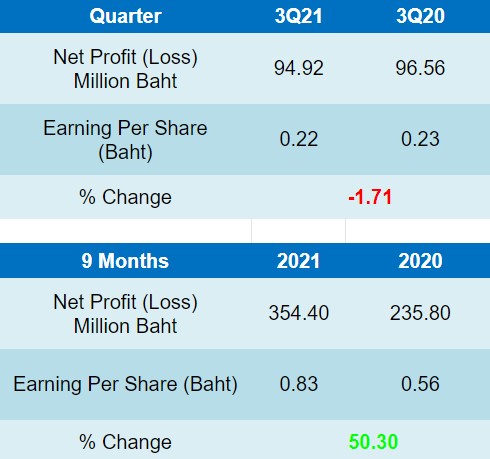 For the third quarter ended September 30th, 2021, XO reported a net profit of Baht 94.92 million, decreased by 1.70% as compared to the same quarter of 2020 which was recorded at Baht 96.56 million. During the 9M21, XO recorded the net profit of Baht 354.40 million, which increased by 50.30%, as compared to the 9M20's net profit which was Baht 235.80 million.
Due to the COVID-19 outbreak situation along with the shortages of cargo containers, XO was unable to ship the products according to the customers' orders, resulting in total revenue from sales decreased by 1.05% or Baht 3.63 million to Baht 341.90 million when compared with the same period in 2020. 
The total revenue from sales during 9M21 was recorded at Baht 1,149.84 million which resulted in an increase of Baht 192.50 million or 20.11%. Such an increase stemmed from higher numbers of retail stores that managed to sell the company's products.