Gulf Energy Development Public Company Limited (GULF) has announced its 3Q21 consolidated financial statement through the Stock Exchange of Thailand as follows;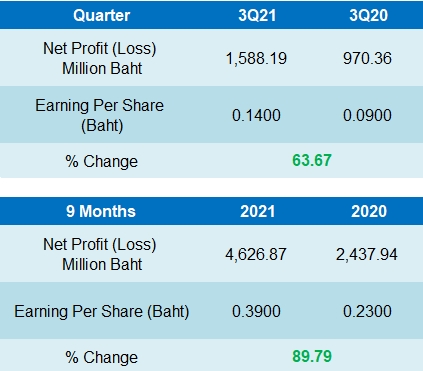 GULF reported a net profit of THB 1,588 million in 3Q21, increased 63% from a net profit of THB 970 million in 3Q20. Meanwhile, GULF's core profit in 3Q21 was recorded at THB 2,293 million. The difference of the amount recorded for core profit and net profit was due to a net loss at the amount of THB 767 million from unrealized FX loss which was caused by the depreciation of Thai Baht against US Dollar from 32.22 THB/USD at the end of Q2'21 to 34.09 THB/USD at the end of 3Q21.
The company reported total revenue of 13,780 million baht for the third quarter of 2021, increased 57.6% from the same period of last year.
The revenue from Gas fired power business accounted for 75.6% of GULF's total revenue in which the company reported an increase of 42.1% YoY to record at 10,414 million baht. The increase was mainly from the revenue recognition from the first unit of GSRC project since its commercial operation date on March 31, 2021, as well as a higher volume of electricity sold to EGAT and industrial users by the 12SPPs under GMP group. Moreover, the average electricity selling price per unit increased in line with higher natural gas prices.
Revenue from Renewable Energy business in 3Q21 was at THB 1,317 million, accounting for 9.6% of total revenue. Compared to 3Q20, revenue increased by 309.9% YoY, mainly due to revenue from BKR2 offshore wind power project in Germany which has been recognized in the Company's financial statements since Q4'20. However, revenue from GTN1 and GTN2 solar projects in Vietnam decreased due to the impact from COVID- 19 outbreak, resulting in the temporary curtailment in certain periods.
Revenue from Infrastructure & Utilities business in 3Q21 was at THB 50 million, accounting for 0.4% of total revenue, from service concession arrangement of THB 50 million for the infrastructure work of MTP3 industrial port development project, which is scheduled to be completed in 2024, and the Company began to recognize such revenue since 3Q20.
Revenue from Management Fee in 3Q21 was THB 123 million, an increase of 26.7% YoY and an increase of 7.9% QoQ from the revenue received from the provision of management services by the Company to its associate GJP which increased as stipulated in the service agreement, and from services provided to HKP project and SPP power plants under GEC.
Meanwhile, GULF booked THB 1,702 million of other income during the quarter, which mainly was an income from the dividend income from INTUCH of THB 1,666 million.