BTS Rail Mass Transit Growth Infrastructure Fund (BTSGIF) has announced its 2Q21 ending September 30, 2021, consolidated financial statement through the Stock Exchange of Thailand as follows;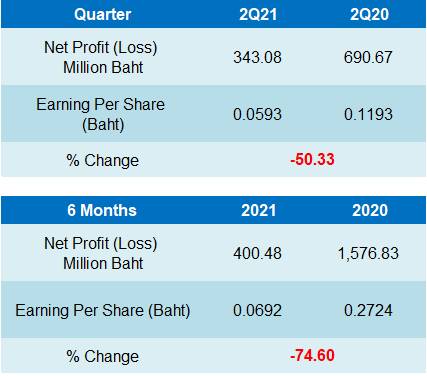 Total income for 2Q 21/22 was 10.1 million, down 98.6% YoY and 93.9% QoQ. YoY and QoQ decreases were largely from the income from investment in NRTA of the Core BTS SkyTrain network under the concession agreement which decreased to 9.8 million, declining by 98.7% YoY and 94.1% QoQ mainly from the impact of the Delta variant of COVID-19 outbreak.
BTSGIF recorded gains on investments of 349.5 million baht from (i) the increase in the fair value of its investment in the NRTA of 350 million baht (non-cash expense). This resulted from the 2H 21/22 projected net revenue was expected to gradually recover from the anticipation for a relief situation of the COVID-19. The present value of the remaining cash flow, thus, increased more than the absence of cash flow from the shortened periods of the concession agreement.
However, it was partially offset by (ii) the recognition of the investment cost for Saint Louis station (S4) of 0.5 million baht1. The new fair value of investment in NRTA was 45,050 million baht as at 30 September 2021 from 44,700 million baht as at 30 June 2021 and from the previous year as at 30 September 2020 of 53,210 million baht.
In the meantime, changes in net assets resulting from operations was 343.1 million baht, decreasing by 50.3% YoY from lower net investment income. Compared to the previous quarter, changes in net assets resulting from operations significantly increased by 497.8% QoQ due to a record of large amount of gain on investments as previously described.
2Q 21/22 ridership was 10.6mn trips, a drop of 72.5% YoY and 34.4% QoQ, primarily resulting from Delta variant of COVID-19 situation since late June 2021. The government issued notifications forcing temporary closure of various businesses, requested people's cooperation to stay at home and work from home, and announced the curfew during mid of July to October 2021, in order to control the spread of infection.
As of 30 September 2021, BTSGIF had a deficit of 10,374.9 million baht, thus BTSGIF  is unable to pay a dividend to unitholders for 2Q 21/22, according to its dividend policy of paying dividend to unitholders more than once a year, if it has sufficient retained earnings.
BTSGIF had cash from the operation for the period from 1 April 2021 to 30 September 2021 which was approximately THB 0.024 per unit. Therefore, the fund will not pay the distribution in form of the capital return in this quarter. However, such an amount will be accumulated with the next payment.