Krungthai Card Public Company Limited (SET: KTC) has announced its consolidated financial statement through the Stock Exchange of Thailand as follows;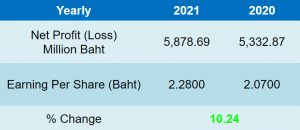 KTC reported that its net profit for the year 2021 has reached a new record high in consolidated financial statements equal to THB5,879 million, increased by 10.27% (yoy).
Total revenue for the year 2021 equal to THB21,442 million, decreased by -2.8% (yoy), mainly due to the interest income from credit card and personal loan businesses decreased by -1.7% (yoy) and -7.2% (yoy) respectively, resulted from the reduction of interest rate ceiling of both businesses since August 2020 as well as the impact from the COVID-19  outbreak which affected consumer's behavior in accordance with changing economic condition. The fee income (excluding credit usage fee) also decreased by -4.1% (yoy).
At the end of 2021, the company's total loan to customers and accrued interest receivables totaled THB92,636 million, increased by 2.8% (yoy). Meanwhile, credit card spending for the year 2021 equaled THB195,727 million, contracted slightly by -0.7% (yoy). 
Despite total revenue dropped by -2.8% (yoy) from lower interest income, KTC managed to decrease total expense by -7.8% (yoy) with cost of fund and expected credit losses reduced  by -7.7% and -17.4%, respectively, as well as an increase in bad debt recovery by 4.7%. Furthermore, the NPL to total gross receivable decreased to 3.6% from 3.8% in the third quarter due to the continuous focus on portfolio quality.
These above-mentioned factors had increased the company's net profit for the year 2021 by 10.2% (yoy).