A surge in refinery margin has been benefiting refinery stocks in Thailand for nearly half a year after the Dubai-Singapore refinery crack spread made a significant leap from $6.19 per barrel at the end of 2021 to $20.23 at the moment.
The price made it up to a record high at $26.60/bbl in early May, surging 126% from $11.72/bbl at the end of March.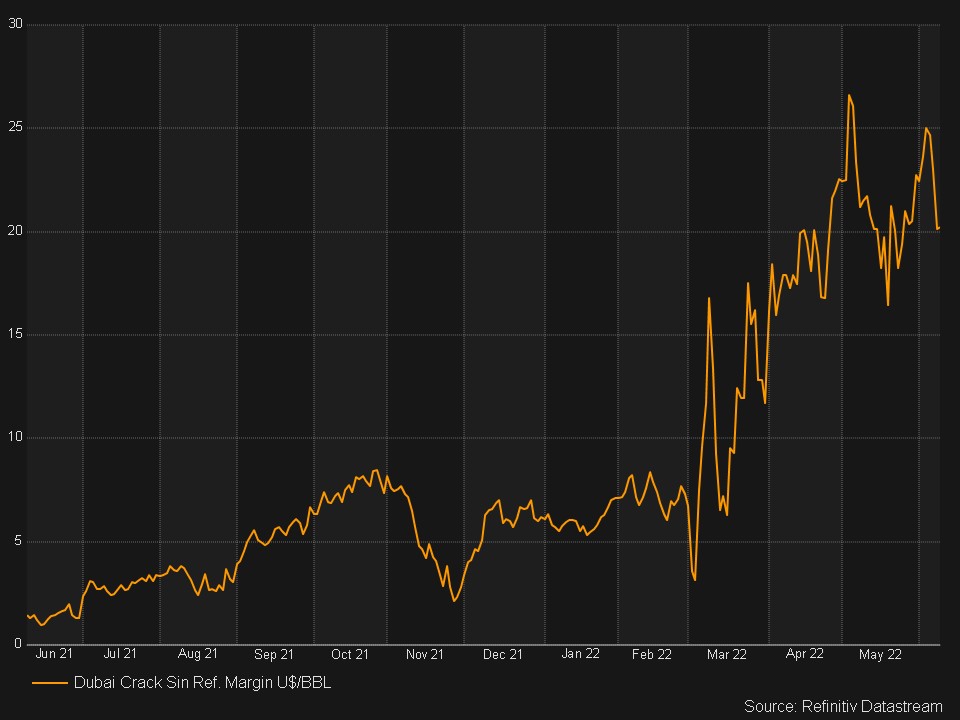 Earlier, brokers expected Thai Oil Public Company Limited (SET: TOP), Star Refining Petroleum Public Company Limited (SET: SPRC), Esso (Thailand) Public Company Limited (SET: ESSO) and Bangchak Corporation Public Company Limited (SET: BCP) to be among the most beneficial stocks from higher gross refining margin (GRM). All four companies reported outstanding performance in 1Q22 with an increase in net profit by 113%, 163%,111% and 90%, respectively, compared to the same period of 2021.
And 2Q22 could be even higher, considering a much higher GRM in the quarter.
However, the positive trend could get a bump soon after Bangkok Post reported that the Minister of Energy is considering whether to intervene with the refining margin, looking to cut the currently high GRM to reduce the retail selling prices of diesel and gasoline at the oil stations.
FSS International Investment Advisory (FSSIA) stated that the news would be negative to the share prices of refiners given the risk for GRM cut by up to $5/bbl, adding that every $1/bbl GRM is estimated to be THB0.2/litre.
The firm estimated that the potential impacts to Thai refiners' earnings in 2H22 will range from 30-50% (20-40% if only applicable to diesel), from the lowest to the highest impacts for PTTGC, IRPC, BCP, TOP, ESSO, and SPRC.
FSSIA stated that it recommended investors to take profit and sell into strength for refiners given the recent price rallies, limited upside to its target prices, and risks for GRM cuts.
As of 15:54 local time in Thailand on June 10, 2022, the share price of TOP plunged 6.17%, SPRC fell 2.26%, ESSO gained 1.67% and BCP dropped 1.43%.