PlanB Media Public Company Limited (PLANB) has announced its 3Q21 consolidated financial statement through the Stock Exchange of Thailand as follows;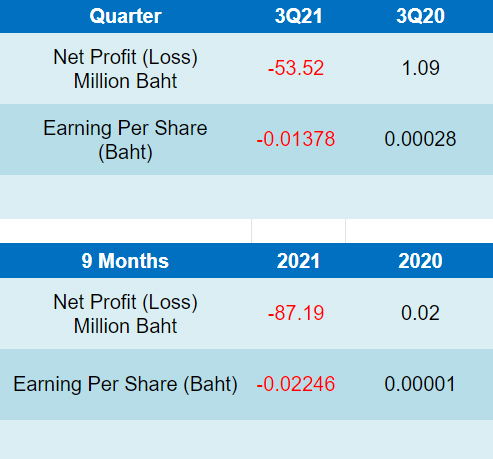 PLANB reported a consolidated net loss for 3Q21 of THB 54 million, increasing THB 55 million or more than 1000.0% over the same period last year due to falling sales of Out-of-home media, recognition of minimum guarantee compensation of THB 78 million that  the company had to pay MACO for the quarter as the second quarter as well as rising financial costs from TFRS16 impacts.
Meanwhile, consolidated net loss for 9M21 stood at THB 87 million, increasing THB 87 million or more than 1,000.0% over the same period last year. Additionally, the impact of the TFRS16 accounting standard of THB 57 million was higher than the same period in 2020 of THB 38 million,and there were expenses on the impairment loss on media assets resulting directly from the COVID-19 situation in 2Q21.
PLANB reported operating revenue for 3Q21 of THB 1,098 million, representing an increase of THB 231 million or 26.6% over 3Q20. Out-of-home media reported total revenue of THB 637 million, contributing approximately 58.0% of total revenue from sales and services. However, out-of-home media revenue in 3Q21 dropped THB 90 million or 12.4% over the same period last year due to falling revenue from all types of out-of-home media except static media and the retail media COVID-19 crisis fully impacted the whole quarter.