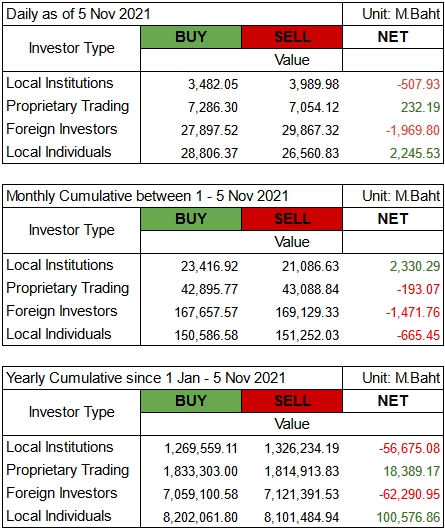 – SET Index closed at 1,626.22 points, decreased 0.05 points or less than 0.00% from the previous session with a trading value of 67.4 billion baht. The analyst stated that the Thai stock market was steadied for a short correction without new factors to drive the market. Still, the outlook remains positive as the SET Index was able to maintain above 1,620 level. The analyst expected domestic consumption to improve, which will benefit related stocks, while expecting power generator and banking stocks to recover after a mild movement this week.
Next week, the analyst estimated SET Index to edge higher, giving a support level at 1,622-1,605 points and a resistance level at 1,630-1,650 points.
– Individuals made a net buy of 2,245 million baht, while Foreign Investors net sold 1,969 million baht in a low trading volume session on Friday.