Index Living Mall Public Company Limited (ILM) has announced its 3Q21 consolidated financial statement through the Stock Exchange of Thailand as follows;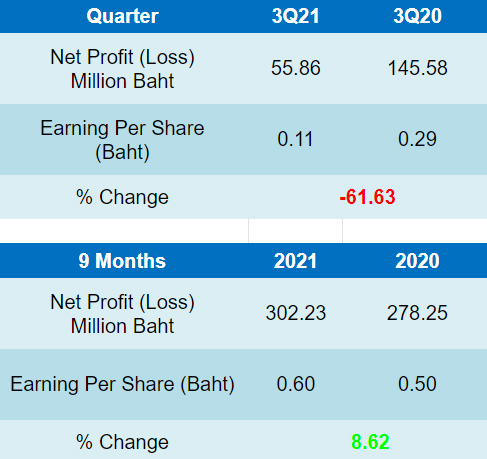 In 3Q21, ILM recorded a net profit of 55.9 million baht, decreased by 61.6% YoY, as a result of lower operating revenue, both from sale and from rental and rendering of services resulted from the temporary closures of some stores of Index Living Mall, The Walk, and Little Walk due to the government's lockdown and control measures from 12 July to 31 August 2021 to prevent the spread of COVID-19. 
However, sales that continued to grow included online sales, which grew by 178.8% YoY; overseas OEM sales, which grew by 96.3% YoY; overseas franchise sales, which grew by 49.5% YoY; and Younique Customized Furniture sales, which grew by 5.4% YoY.
3Q21 net profit significantly improved from Q2Q20 when the first lockdown measures were applied, mainly supported by the efficient improvement of gross margin and cost management. Additionally, online sales have made another quarterly new high of 324.3 million baht, increased by 178.8% YoY and 36.4% QoQ.
Meanwhile, in 9M21, ILM recorded a net profit of 302.2 million baht, increased by 8.6% YoY, owing to lower sales and gross profit margin from sale mainly due to the lower proportion of retail sales which contributed to higher gross margin than other sales channels. Increased particle board which is a major raw material for furniture production also pressured the gross margin. However, revenue and gross profit margin from rental and rendering of services improved supported by lower discounts given to tenants compared to the same period last year.
Miss Kridchanok Patamasatayasonthi, Managing Director of ILM, revealed that the company has reached an agreement with COM7 Public Company Limited (COM7), the leading smartphone and technology products retailer in Thailand to have COM7 sell home electric appliances, mobile phone devices, and computers at all of 31 Index Living Mall stores, starting the first phase by November 2021.
ILM believes that by forming this joint venture with COM7, the company can better serve the target markets and, as a result, increase the number of customers at Index Living Mall. ILM anticipates that by integrating product sales, it will be able to better meet all of its customers' needs.
Additionally, after the company announced a collaboration with MAP Group to open 2 Index  Living Mall franchise stores in Indonesia in 4Q21, the company also set a solid plan to open more franchise stores in a few countries next year to further drive overseas sales in the future.