IRPC Public Company Limited (IRPC) has announced its 3Q21 consolidated financial statement through the Stock Exchange of Thailand as follows;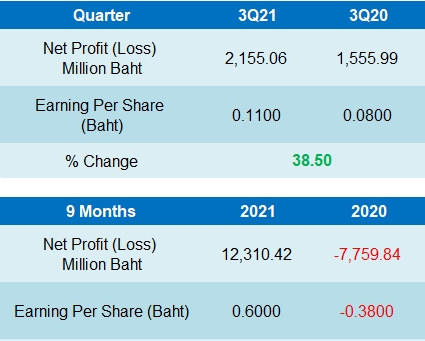 IRPC reported a net profit of 2,155 million baht in 3Q21, increased 38.50% from a net profit of 1,555 million baht in 3Q20. The nine-month period also turned from a net loss of 7,759 million baht in 2020 to a net profit of 12,310 million baht.
The company's net sales was up by 24,417 million baht or 65%, attributed to a 66% increase in average selling prices following higher crude oil price versus a 1% decrease in sales volume. The average crude intake was 191,000 barrels per day decreasing by 2%. The Market GIM improved by 2,279 million baht or 46% in accordance with an increase in almost all products spread when compared with the same period last year.
IRPC stated that although the net stock gain decreased by 1,442 million baht, accounting GIM still rose by 837 million baht. Meanwhile, the operating expenses increased by 170 million baht. All mentioned above had brought an increase in EBITDA by 347 million baht or 6%, YoY.
The company recorded a decline in depreciation by 130 million baht. The net financial cost was down by 25 million baht or 6% due to lower interest rate. Meanwhile, the loss on financial derivatives was up by 212 million baht. The loss on foreign exchange from US Dollar – Borrowings increased by 133 million baht because of the Thai Baht weaken.
Moreover, there was an unrealized loss on oil hedging dropped by 449 million baht. Still, there was an increase in gain on investment by 66 million baht. In addition, the company recorded corporate income tax amounting to 460 million baht in 3Q21 rising by 26% as the performance was improved.
In 4Q21, IRPC expected that crude oil price is likely to increase from that in 3Q21 mainly relating to incredible increases of LNG, LPG and coal prices, hence there is a forecast that crude oil demand will rise owing to gas-to-oil switching in the upcoming winter. Besides, OPEC and allies tend to keep their crude oil production plan at 0.4 million barrels per day although many countries supplicate for more crude oil supply to control the crude oil price.
Furthermore, the U.S.' consideration to lift sanctions on Iran may be postponed from 4Q21 to 1Q22 making Iran's crude oil export remain halted through 2021. Meanwhile, oil consumption is expected to develop on the back of improved overall COVID-19 situations, which tends to be one of the factors supporting the crude oil price.