PTT Public Company Limited (PTT) has announced its 3Q21 consolidated financial statement through the Stock Exchange of Thailand as follows;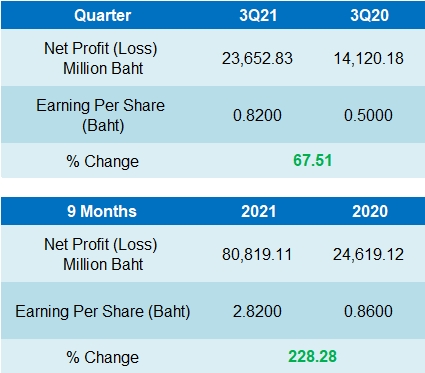 PTT reported a net profit of 23,652 million baht in 3Q21, increased 67.51% from a net profit of 14,120 million baht in 3Q20. This resulted from the improved EBITDA despite higher losses on derivatives, foreign exchange rate, and income tax expense in this quarter.
In the third quarter of 2021 (3Q21), PTT and its subsidiaries reported EBITDA increased by Baht 43,057 million or 63.8% from the third quarter of 2020 (3Q20) of Baht 67,465 million. This was mainly from Petrochemical and Refining businesses that the Petrochemical business's performance increased from the higher of overall petrochemical product spreads both of Olefins and Aromatics as well as the increased sales volume offset with the decline in the Refining business's performance due to lower sales volume and increased hedging loss in this quarter.
However, PTT Group's stock gain increased approximately by Baht 2,000 million following crude oil prices increased to a higher extent compared to 3Q20. Exploration and Production business's performance improved due to higher sales volume mainly from the acquisition of Oman Block 61 in March 2021 as well as higher average selling prices. The performance of Gas business enhanced from Gas Separation Plant business (GSP) and Supply and Marketing business (S&M) due to the higher average referenced selling prices as aforementioned.
In addition, PTT stated that the company currently has long term LNG contracts with Qatargas, Shell, BP, and Petronas at 5.2 MTA and has a capability to procure LNG in order to fulfill the country's demand growth in the future.