Carabao Group Public Company Limited (CBG) has announced its 3Q21 consolidated financial statement through the Stock Exchange of Thailand as follows;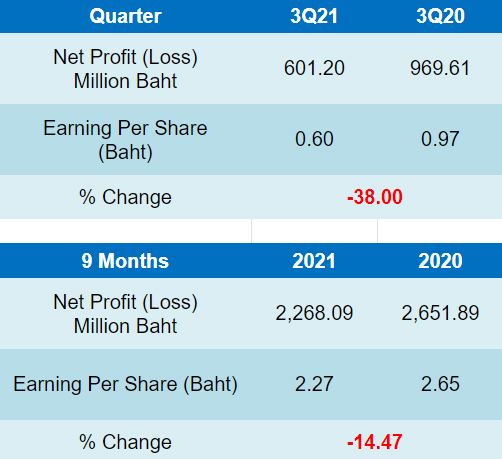 Net profit attributed to CBG in 3Q21 was THB 601 million, a decrease of THB 368 million or 38.0% YoY due to lower overseas sales especially sales to CLMV resulting from the lockdown measures from the Covid-19 pandemic. As a result, the average monthly sales  volume and gross profit margin of the company decreased. The net profit margin was 15.2% down from 22.0% in 3Q20 due to higher raw material prices such as sugar and aluminum coil as well as lower sales.
Total revenue from sales in 3Q21 were THB 3,957 million, a decrease of THB 448 million or 10.2% YoY. Sales of branded products by own manufacture were THB 2,690 million, a decrease of THB 927 million or 25.6% YoY. The amount consisted of domestic and overseas sales at the proportion of approximately 52:48.
Overseas sales of energy drinks were THB 1,297 million, a decrease of THB 752 million or 36.7% YoY. The main overseas sales came from CLMV countries, accounting for 28% of total sales, European countries(ICUK) accounting for 2% of total sales and 2% from other countries of which the majority were orders from Yemen.
Export sales to CLMV countries decreased by THB 539 million or 32.5% YoY due to the Covid-19 pandemic situation getting worse in the neighboring countries, causing lockdown in many cities in each country especially in Vietnam and Cambodia. Moreover, the business partners in Myanmar rushed to purchase large quantities of goods in the last quarter and the border closure as well as currency fluctuations  in Myanmar affecting domestic demand. As a result, the average monthly sales volume of the company has decreased.