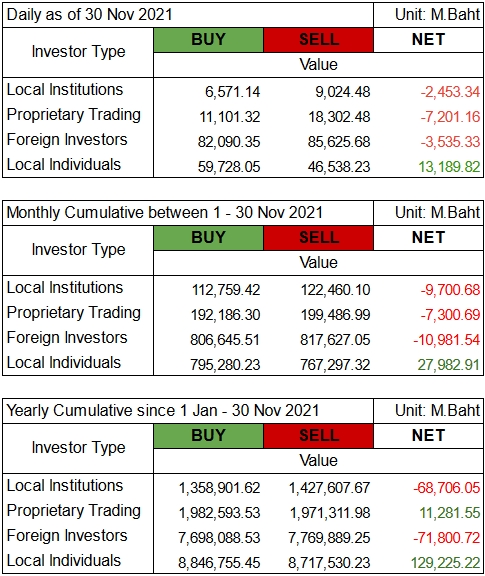 – SET Index closed at 1,568.69 points, decreased 21.00 points or 1.32% with a trading value of 159 billion baht. The analyst stated that the Thai stock market moved in the same direction of global markets as well as Dow Jones Futures after the CEO of Moderna predicted existing vaccines will be much less effective against the omicron variant, triggering fears among investors for a selloff in risk assets and seek safe haven as Gold edged higher. Thailand also concerns that if there is an omicron in the country, it will return to a lockdown, which slowdown the economic recovery.
The analyst expected SET Index to rebound tomorrow, giving a support level at 1,560-1,550 points and a resistance level at 1,585-1,590 points.
– Foreign Investors, Local Institutions and Proprietary Trading made a three-straight day selloff amid concerns over the spreading of the omicron variant.