JPMorgan expected U.S. CPI inflation to start moderating in the second half of 2022, seeing energy prices to be pressured from the negative economic outlook.
The Consumer Price Index (CPI) for the United States of America has been rocking continuously at a 40-year high for several months at a level higher than 8%, fueled by rising energy and food prices due to tightening supply from the war between Russia and Ukraine.
Headline inflation in May 2022 was at 8.6% and the price in June is expected to rise even higher to 8.8%. According to Reuters poll, the U.S. inflation is forecast to slow down to 7.5% in 3Q22, 6.2% in 4Q22, 4.6% in 1Q23 and to finally draw near the Federal Reserve's target at 3.5% in 2Q23.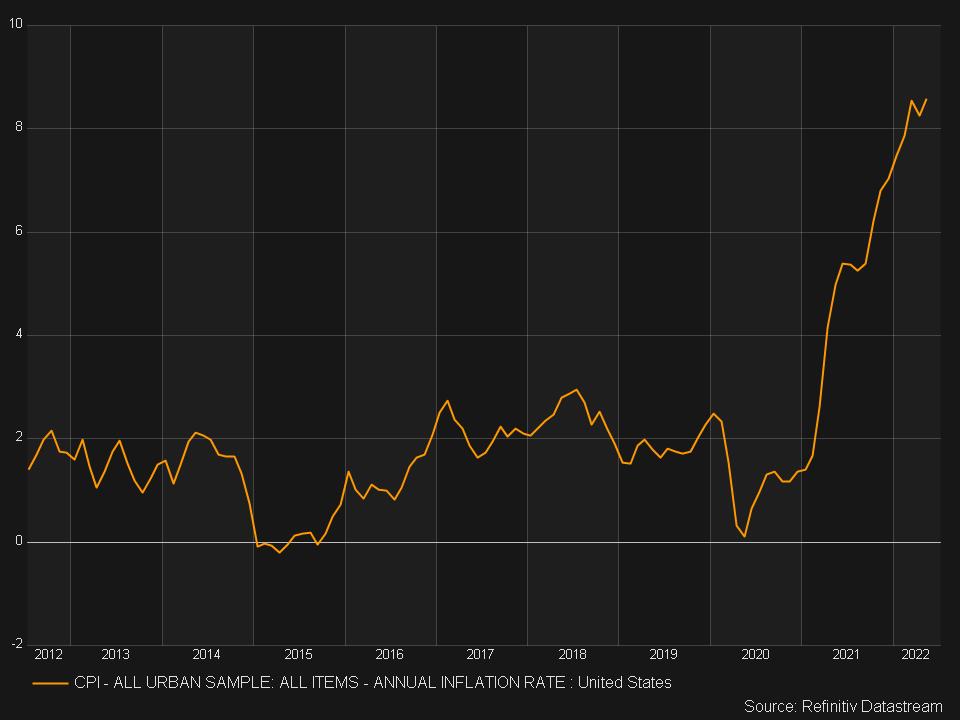 JPMorgan stated that the latest global PMI data compiled by S&P Global showed companies' input costs rising at the slowest rate for four months, signalling a cooling of global consumer price inflation. While input cost inflation has moderated on previous occasions during the pandemic only to reaccelerate again, the data showed that this time it would look different.
The firm pointed out that, first, the recent slowdown in demand is greater than at any time during the pandemic other than the initial lockdowns and, importantly, it was not pandemic containment that is the cause this time.
Second, the recent easing of price pressures is associated with a substantial moderation of supply chain delays.
Third, the cooling of final demand is being accompanied by a shift away from inventory building, which will further reduce demand-pull pressure in input prices.
Fourth, due to a slowdown of growth prospects for corporates, the drop in confidence will likely take pressure off labour demand and wage, which will feed through to weaker output growth in coming months. All of which will further help reduce pressure for inflation.
Lastly, JPMorgan noted that the energy prices remain a key uncertainty, especially in Europe. However, even energy prices are now coming under pressure from the worsening economic outlook, which is the evidence suggesting that the inflation rate will start to moderate – potentially substantially – in the second half of 2022.