The decline of the U.S. Dollar Index continued on Thursday after the Federal Reserve announced a smaller interest rate hike as inflation shows signs of slowing down.
The Federal Reserve raised its interest rates by 25 basis points on Wednesday, bringing the benchmark rate to a range of 4.5% to 4.75% from 4.25% to 4.5% previously while signalling to go further in order to bring inflation down to its target.
The dollar index slipped further by 0.22% on Thursday to 100.91, falling 13% from its previous height of 114.103 in late September 2022. This is the lowest level since April 2022.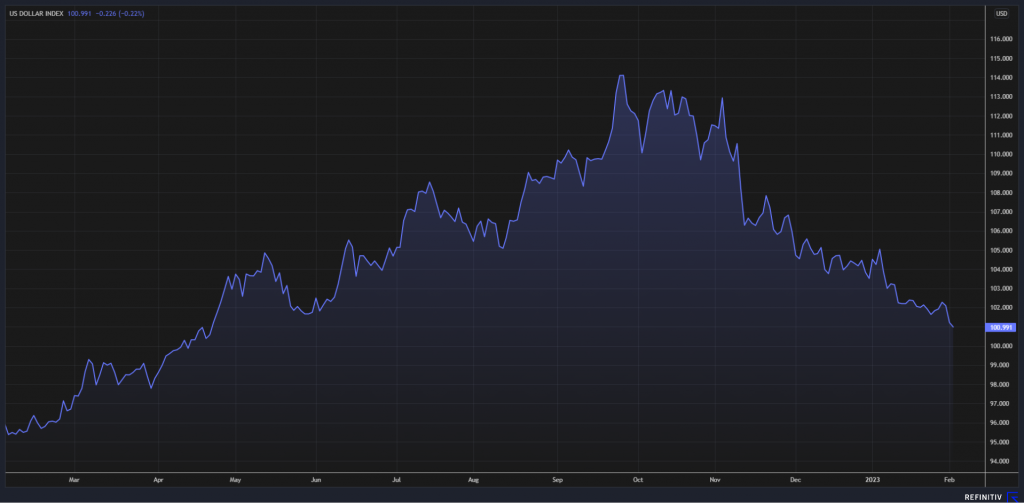 The index gained nearly 30% from January 2022 to its peak in September on the back of aggressive rate hikes by the Fed to curb rising inflation. The U.S. central bank made four consecutive 50 basis point rate hikes in 2022, followed with a 50bps in December and a smaller hike of 25bps in January 2023.
With the Fed easing aggression on tightening policy the once rising dollar index started to decline in the fourth quarter of 2022 when the market anticipated that the pace of hikes will decline after inflation had reached its peak.