Thai Union Public Company Limited (TU) has announced its 3Q21 consolidated financial statement through the Stock Exchange of Thailand as follows;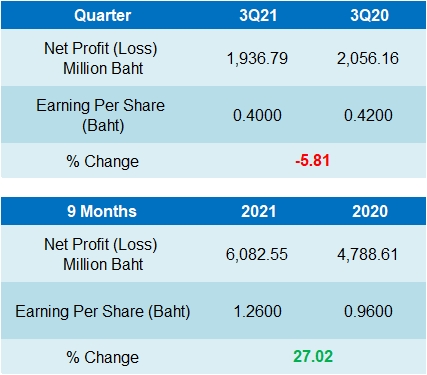 TU reported a net profit of 1,936 million baht in 3Q21, slightly decreased by 5.81% compared to the same period of last year. Still, the company posted a strong 9-month earnings of 6,082 million baht, increased 27% YoY.
The company stated that the net profit in the third quarter of 2021 is still at a healthy level due to strong core operations with top line growth, consistently high margin, and higher FX gains, which helped mitigate the impacts from supply chain disruption, lower workforce capacity during COVID-19 outbreak, and a share of of loss from investment in associates.
Meanwhile, the company had to encounter short-term disruptions from lower workforce capacity at Thailand-based factories during the prolonged pandemic, higher logistic costs, and Red Lobster's lease accounting impact offset the strong core operations benefits in 3Q21.
3Q21 sales growth was 2.2% YoY to 35,539 million baht. This was mainly driven by a significant rebound of frozen and chilled seafood sales (+11.0% YoY) and continued strong growth in the PetCare and value-added business (+11.4% YoY). The ambient seafood business saw a normalized 8.0% YoY sales drop in 3Q21. The movement of THB against key currencies also benefited 3Q21 sales. Compared to 3Q19 pre-COVID level, all three core businesses grew firmly in 3Q21 at 11.6% growth.