Sri Trang Agro-Industry Public Company Limited (STA) has announced its 3Q21 consolidated financial statement through the Stock Exchange of Thailand as follows;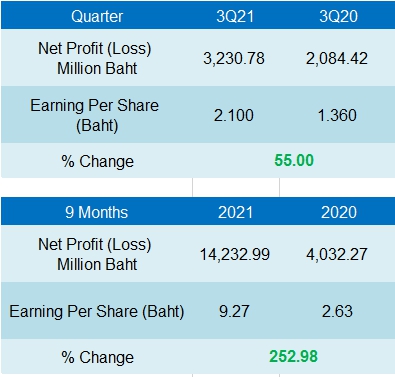 STA reported a net profit of 3,230 million baht in 3Q21, increased 55% when compared to the same period of last year with a gross profit margin of 28.6% and a net profit margin of 11.3%. The increase in net profit was mainly due to higher revenue during the period that grew 72.7% YoY.
The company added that even though the average selling price (ASP) for glove business was lower, demand continued to be robust and STA's expansion is going ahead as planned. The natural rubber (NR) operations continued to see robust growth as NR prices on the global markets were in the high range and demand continued to be strong.
STA stated that revenue from NR business, which accounted for 62.0% of total revenue, was 17,665.6 million baht, growing 110.3% YoY on the back of higher ASP and sales volume as well as increased market share. Revenue from NR products also increased 5.3% QoQ as its ASP was higher than NR prices on the global markets. Because of timely delivery and credibility, the company was the first choice among both domestic and overseas customers and the sales volume in 3Q21 was 311,308 tons.
Meanwhile, revenue from gloves business accounted for 37.9% of total revenue and totaled 10,801.3 baht, growing 33.6% YoY on the back of the ASP that increased 34.1% YoY. However, the revenue decreased 16.8% QoQ because of the lower ASP QoQ. Sales volume improved to 7,051 million pieces as production fully resumed at Surat Thani and Trang plants following a temporary suspension because of COVID infections in 2Q21. As a result, gross profit margin for gloves was 53.2%, which still ranked among the highest in the industry.
In addition, STA's Board of Directors approved an interim dividend of Bt1.25 per share to be paid on December 8, 2021. The ex-dividend date will be on November 19, 2021.