Sri Trang Gloves (Thailand) Public Company Limited (STGT) has announced its 3Q21 consolidated financial statement through the Stock Exchange of Thailand as follows;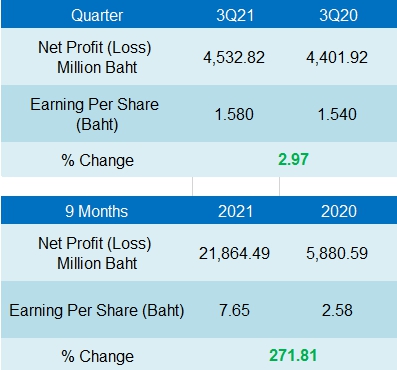 STGT reported a net profit of 4,532 million baht in 3Q21, increased 2.97% when compared to a net profit of 4,401 million baht in 3Q20 with a net profit margin of 41.7%.
The company stated that with continuing robust global demand and as production fully resumed at its Trang and Surat Thani plants, sales volume in 3Q21 increased to 7,076 million pieces, partially offsetting the decline in average selling price (ASP).
Sales revenue in 3Q21 was 10,864.0 million baht, increased 32.6% YoY but decreased 16.2% QoQ. The YoY growth in revenue resulted from the ASP that increased YoY, while the QoQ decrease in revenue resulted from the ASP that went down 32.5% QoQ to 1,531 baht (USD 46.7) per 1,000 pieces because of increased supply in the market.
Sales volume was 7,076 million pieces, down 0.9% YoY but grew 23.8% QoQ as production fully resumed at its Surat Thani and Trang plants following a temporary suspension in 2Q21 due to COVID-19.
However, the persisting global container shortage and shipping congestion meant that its export sales volume was still lower than target. In addition, STGT's employees have been fully vaccinated, the utilization rate went up from 82% in 2Q21 to 90% in 3Q21.
STGT added that its strategy going forward will be focused on: 1) a commitment to capacity expansion, to reach 50 billion pieces and 80 billion pieces in installed production capacity within 2022 and 2024, respectively; 2) the flexibility of production lines that interchangeably between latex and nitrile gloves, to maintain an optimum product mix that best responds to market demand; 3) a continuing effort to increase market share, from currently 170 countries to over 190 countries within the next 3 years; 4) production efficiency improvement, from currently 2.17 persons per 1 million pieces to 1.65 persons in 2024 and 1 person in 2026; and 5) the development of new types of latex gloves, which are biodegradable, that will respond to a variety of customer demand, reinforcing its advantage in latex glove production with secure access to quality NR latex. Most recently, its "CWCG" (Clean World Clean Glove), i.e., latex powder-free gloves with no detectable protein allergen, received various test certificates from labs in Europe and the US.
In addition, the Board of Directors has approved a quarterly dividend of Bt1.25 per share in 3Q21. The ex-dividend date will be November 19, 2021 and payment will be made on December 7, 2021.