Jasmine International Public Company Limited (JAS) has announced its 3Q21 consolidated financial statement through the Stock Exchange of Thailand as follows;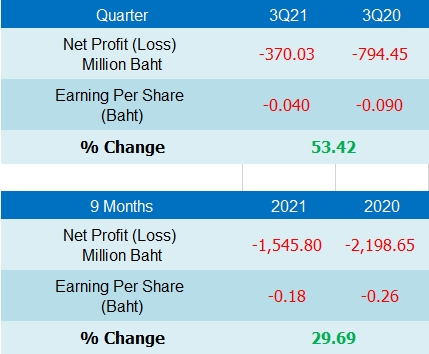 In 3Q21, JAS reported a net loss of 370 million baht, improved from a net loss of 794 million baht in the same period of last year.
The total operating revenue of the company and its subsidiaries for 3Q21 was 5,031 million baht, increasing by 188 million baht or 4% YoY and by 183 million Baht or 4% QoQ.
As at the end of 3Q21, 3BB had a total of 3.61million subscribers. After deducting corporate accounts, WiFi subscribers, barter accounts, internal use accounts, Value Added Service accounts and non-paying subscribers etc, the total number of collectable subscribers of Fixed broadband service was approximately 2.42 million with Average Revenue Per User (ARPU) of 595 baht per month.
Selling and administrative expenses in 3Q21 were 1,066 million Baht, decreasing by 257 million baht or 19% YoY and by 52 million Baht or 5% QoQ — a result of an increased efficiency in cost management and control of JAS Group.