PTT Oil and Retail Business Public Company Limited (OR) has announced its 3Q21 consolidated financial statement through the Stock Exchange of Thailand as follows;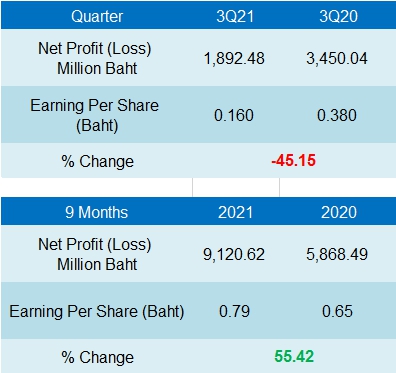 OR reported a net profit of 1,892 million baht in 3Q21, decreased 45.15% when compared to the same period of last year.
The company recorded a net profit of 9,120 million baht for its 9-month period, increased 55.42% YoY. This was due to the hiking of both sales revenue and EBITDA in the amount of 34,652 million baht, increased 10.9% and 3,394 million baht, increased 27.1%, respectively.
The company recorded total sales and services in the third quarter of 2021 at 116,792 million baht, increased 11.4% YoY and largely contributed by the oil business. The increase was due to the sharp increase of average selling prices following an uptrend of global oil prices compared to 3Q20. However, the overall sales volume decreased 845 mml or 13.9% by virtue of tightened COVID-19 control measures from increasing infected cases.
The decrease in sales volume for oil business led to a drop in gross profit at 1,682 million baht, representing a decrease by 22.9% YoY, which curtailed gross profit per liter by 0.12 baht/liter, primarily from the commercial market. Fuel oil declined from lower average gross profit per liter, and lubricants decreased from higher raw material costs. In contrast, aviation fuel achieved higher gross profit from higher average gross profit per liter. On the retail market side, gross profit dropped from a decrease in sales volume, despite higher gross profit per liter.
In 3Q21, OR's Non-Oil business recorded a total of 3,812 food and beverage (F&B Business) outlets, including 3,492 Cafe Amazon outlets in Thailand—classified as 2,029 in-stations and 1,463 out-of-stations, or as 58.0% and 42.0%, respectively—along with 20 Cafe Amazon outlets overseas, 87 Texas Chicken outlets, 213 outlets for other F&B comprising Hua Seng Hong Dim Sum, Pearly Tea and Pacamara, and for Other Non-Oil we recorded 2,041 convenience store outlets under the 7-Eleven and Jiffy brands.