Osotspa Public Company Limited (OSP) has announced its 3Q21 consolidated financial statement through the Stock Exchange of Thailand as follows;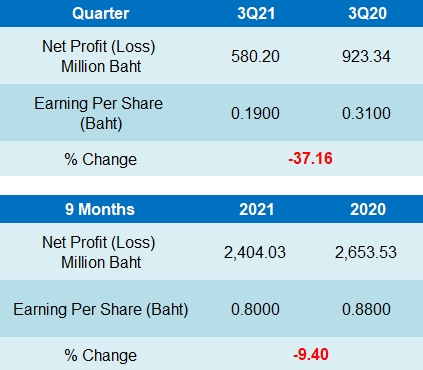 OSP reported a net profit of 580 million baht, decreased 37.16% from a net profit of 923 million baht in 3Q20. The company recorded a net profit margin of 9.5% in the quarter, representing a decline of 4.5bps from 3Q20. The company stated that the effective indirect cost and expense management during the period could not fully offset the weakened sales, global surge in freight costs, and adverse foreign exchange impact.
In 3Q21, revenue from sales at 6,121 million baht, decreased 7.3% when compared to 3Q20, which was the recovery period after the first wave of the pandemic last year. Domestic beverage businesses outperformed market performance, while our international beverages grew 16.4% YoY, driven by sales in non-CLMV markets.
3Q21 gross margin was at 33.5%, dropped by 2 bps YoY, due to product mix from higher contribution of C-Vitt, production volume deleverage, and commodity price increase from global shortage and weakened foreign exchange rate, which were partially offset by Fit Fast Firm initiatives.  Meanwhile, the total impact of foreign exchange loss in 3Q21 was THB 92 million, mainly from weakened Myanmar Kyat (MMK).
Selling and administrative expenses (SG&A) spending was at 23.5% of sales, an increase of 1.8 bps YoY, from sales activation for domestic and international markets, the global surge in freight costs, and the impact of currency fluctuation. Total impact of foreign exchange loss included in SG&A was 92 million baht, mainly from weakened Myanmar Kyat (MMK). Excluding currency impact, the SG&A to total revenue from sales would be 22.0% of sales, reflecting our actions to prudently control and manage the overall spending in response to the rapidly changing business environment.