TQM Corporation Public Company Limited (TQM) has announced its 3Q21 consolidated financial statement through the Stock Exchange of Thailand as follows;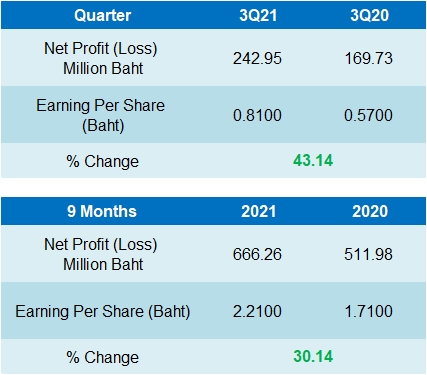 TQM reported a net profit of 242 million baht in 3Q21, increased 43.14% from a net profit of 169 million baht in 3Q20. The increase was mainly due to an increase of sales from every operating channel, well-managed cost control and the contribution from the joint-venture investment in this quarter. The company recorded total revenue of 851 million baht in the quarter, compared to a revenue of 773 million baht in 3Q20.
The Board of Directors approved a proposal to the shareholders of TQM for a par split from Bt1.00 per share to Bt0.50 per share to increase liquidity in the market, which will result in an increase in ordinary shares to 600 million shares.
TQM's Boards also approved the investment in the business of claims services for health insurance, accident insurance and consulting service for claims and indemnity for customers, non-life and life insurance companies, increasing the potential of providing comprehensive services by naming TQC Co., Ltd.
Additionally, the Boards approved the entering into service agreement for a consultant for business ideas to support business development project initiating, arranging fascinating presentation for both business and IT Project Accelerator with Bluebik Group Public Company Limited, (BIK), the remuneration shall be paid in the total amount of THB 5,500,000 baht.