Sino-Thai Engineering and Construction Public Company Limited (STEC) announced its 3Q21 ending 30 September 2021 consolidated financial statement through the Stock Exchange of Thailand as follows;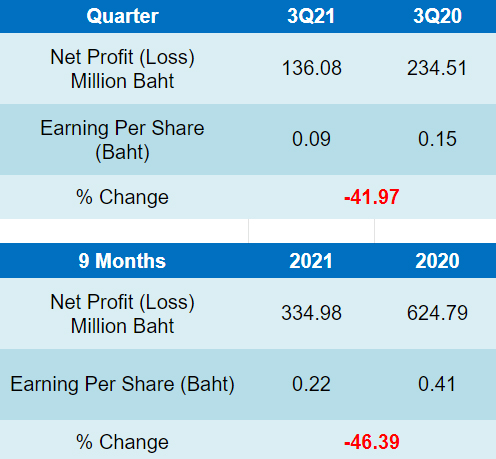 For the third quarter of 2021, STEC had a net profit of 136.08 million baht, a decrease of 98.43 million baht or 41.97% from the same period of last year. The decrease was mainly due to total revenues for the period dropped by 2,499.59 million baht or 29.00% to 6,119.62 million baht, as a result of the impact of the latest wave of Coronavirus disease 2019 pandemic which has become more severe than prior year.
The major revenues were from construction contracts, amounting to 6,056.80 million baht, rental income, amounting to 14.88 million baht and dividend income, amounting to Baht 84.11 million.
However, STEC had a gross profit of 267.26 million baht, representing 4.40% for the three-month period and an operating profit before finance cost and income tax amounted to 157.77 million baht, representing 2.58%.