Loxley Public Company Limited (LOXLEY) has announced its 3Q21 consolidated financial statement through the Stock Exchange of Thailand as follows;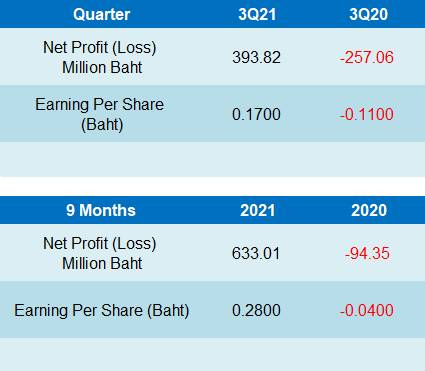 LOXLEY reported a net profit of 393 million baht in 3Q21, improved from a net loss of 257 million baht in 3Q20. The increase in net profit was due to a reversal of impairment loss in accordance with TFRS9 at the amount of 779 million baht, compared to 6 million baht in 3Q20.
However, revenue from the sale of goods and rendering of services for the 3rd quarter ended 30 September 2021 of 2,712 million baht decreased 359 million baht or 12% from that of last year partially due to the lately lockdown measures preventing of COVID-19 outbreak which caused the delay of progress and delivery of projects. However, the lockdown and government expenditure stimulus measures resulted in increased sales of consumer products and chemical raw materials for daily life products in Trading Business Group of 283 million baht from the same period of last year.
In the 3rd quarter of 2021, the company shall receive a repayment of loan and accrued interest income amounting to 771 million baht from an associate which the company recorded full impairment loss. This is the result of the associate's receiving compensation of 2,099 million baht from the Government Lottery Office of Thailand according to the Supreme Administrative Court's judgment. The Company then reversed the allowance for impairment loss to reflect the repayment amount from the associate. As at 30 September 2021, the  company partially received the repayment amounting to 636 million baht.