True Corporation Public Company Limited (TRUE) has announced its 3Q21 consolidated financial statement through the Stock Exchange of Thailand as follows;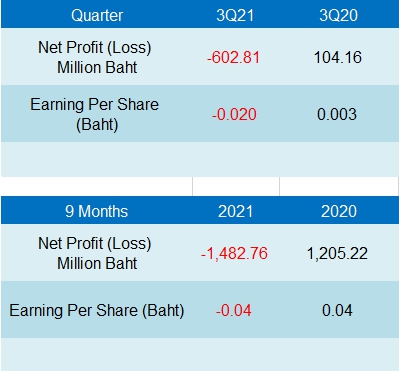 TRUE reported a net loss of 602 million baht in 3Q21, a contrast to a net profit of 104 million baht in 3Q20 with one-time gain from selling DIF units totaling Baht 1.5 billion; excluding this, bottom line improved 57% from the same period last year.
TRUE's consolidated service revenue was Baht 26,187 million, softening 1.1% YoY on economic pressure and impact from the tightened COVID-19 restrictions in the third quarter particularly in the price-sensitive prepaid and pay TV markets. Nevertheless, the subscriber base of 5G, broadband and digital businesses consistently expanded with strong growth potentials. Cost restructuring programs yielded positive results lowering core operating expenses by 8.0% from the same period last year. These drove EBITDA and operating profit up 7.6% and 15.2% YoY to Baht 14,366 million and Baht 2,939 million, respectively.
TrueMove H's mobile service revenue was Baht 19.8 billion, flat YoY and softened 2.0% QoQ, as prepaid declined following economic and restriction impact while postpaid grew with 5G users surging to 1.5 million.
TrueOnline's broadband internet revenue grew 9.5% YoY and 2.2% QoQ to Baht 7.5 billion along with strong subscriber expansion to 4.5 million, gaining 135k net broadband subscribers in 3Q21.
TrueVisions' service revenue was Baht 2.4 billion, decreasing YoY on continued impact from economy and consumers' increasing behavior toward OTT and online viewing. These softened subscription and installation revenue to Baht 1.4 billion.
True Digital Group's comprehensive digital ecosystem gives True Group a competitive edge as its flagship digital media platform, TrueID, continued to gain traction with growing monthly active users of over 26 million while TrueID TV boxes expanded further to 3.0 million.
Core operating expense (comprising cost of providing services excluding IC and other S&A) consecutively declined at 8.0% YoY, 5.0% QoQ to Baht 13.9 billion. This was driven by the Group's cost efficiency programs in various categories including channel efficiency, sales and marketing, personnel, content as well as office and outlet following COVID-19 situation and lockdown measures.
Depreciation and amortization expenses were Baht 11.4 billion, increasing 3.3% QoQ and 5.8% YoY on continued network expansion for capacity and coverage particularly 5G in key areas of all 77 provinces. Amortization of the 700 MHz and 26 GHz spectrum licenses also  contributed to the YoY increase.