CKPower and Bangkok Expressway and Metro sign historic agreement for the first use of solar energy to power Thai mass transit systems
MRT Blue Line and MRT Purple Line to get around 12% of power from solar energy
CK Power Public Company Limited (SET: CKP), one of ASEAN's top producers of renewables-based electricity, and Bangkok Expressway and Metro PLC (SET: BEM), the operator of two metro lines in Bangkok as well as expressways, recently signed an agreement that will pioneer the first use of electricity generated by solar energy to power a mass transit rail system in Thailand.
The agreement establishes a collaboration between the two companies to provide know-how and assets to use solar energy to power the MRT Chalerm Ratchamonkol Line (MRT Blue Line) and the MRT Chalong Ratchadham Line (MRT Purple Line) that, together, run for more than 71 kilometers and serve 54 stations around Bangkok.
Mr. Thanawat Trivisvavet, Managing Director, CK Power PLC, said, "this is the first time that solar energy will be used to power a Thai mass transit system on such a large scale.  We are proud to pioneer new uses for solar energy in Thailand, and our partnership with Bangkok Expressway and Metro will make an important contribution to increasing the use of renewable energy sources."
"The collaboration agreement is for up to 25 years and we will supply a massive 452 million kilowatt hours – 452 GWh – during the project period.  That's an amount equivalent to around 12% of the total anticipated consumption of the Blue Line and Purple Line combined," he said.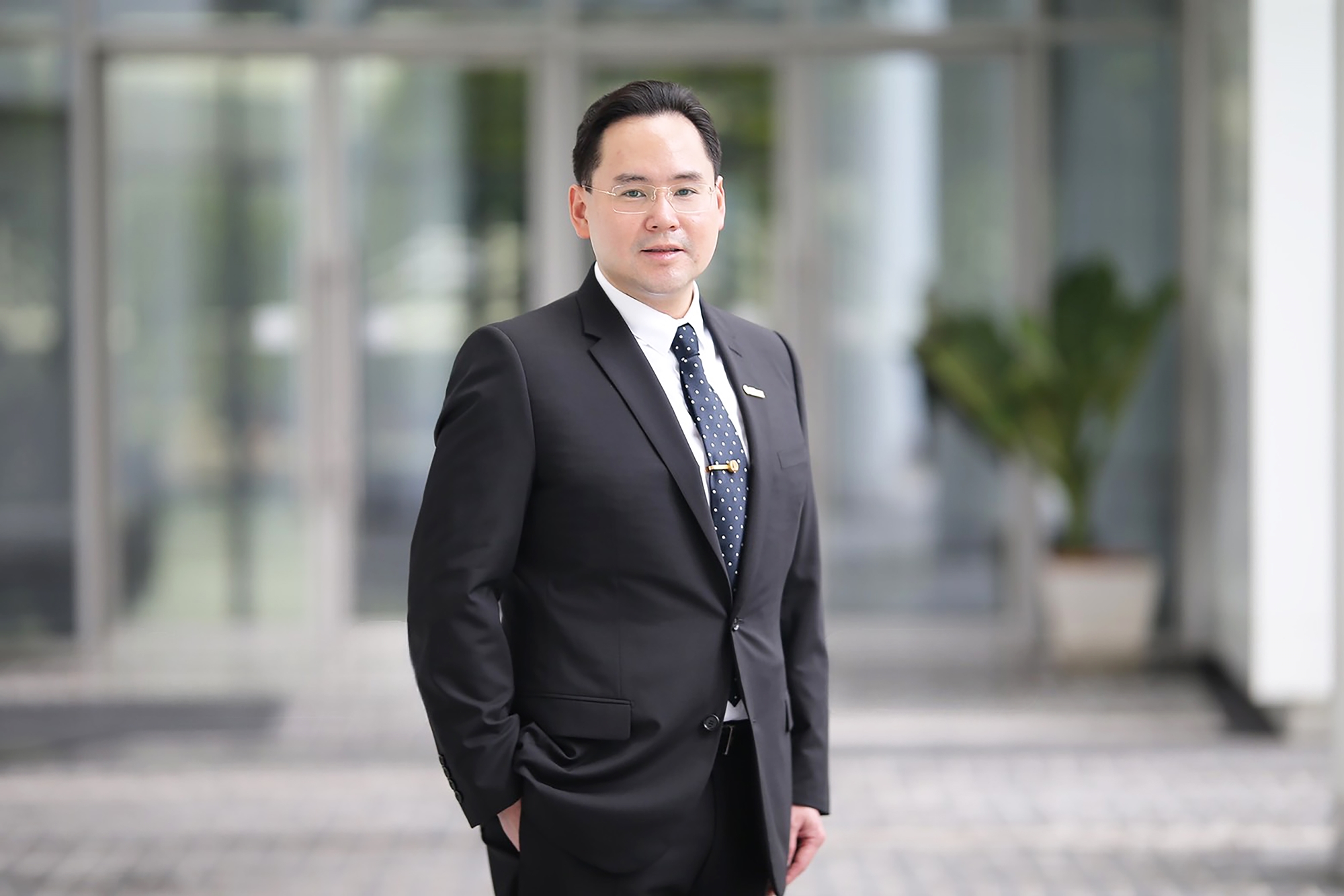 Dr. Sombat Kitjalaksana, Managing Director, Bangkok Expressway and Metro PLC, said, "we are committed to supporting Thailand's transition to clean energy and helping to fulfil the national goal to achieve net zero greenhouse gas emissions by 2065.  Under this arrangement, we can eliminate an incredible 300,000 tons of carbon emissions during the project period.  The project is made particularly special because our arrangements with CKPower will, at the same time, also help us reduce our electricity consumption costs too."
According to Dr. Sombat, under the agreement, six locations with a total area of over 106,000 square meters, including the roofs of rail depots, car parks and office buildings of the Blue Line and the Purple Line, will be used to capture solar energy.
The two mass transit rail systems are an important part of Bangkok's transport infrastructure.
The MRT Blue Line runs in an almost circular route around Bangkok with a total length of 48 kilometres and with 38 stations, and connects important residential, commercial, and culturally significant areas of Bangkok. The MRT Purple Line primarily serves northern and western Bangkok and has a length of 23 kilometres and 16 stations.
"We consider this venture only the start of an important partnership and both parties are actively exploring ways in which to build and expand on this breakthrough initiative to substitute conventional energy with renewables-based energy sources for our systems' growing power needs," Dr. Sombat said.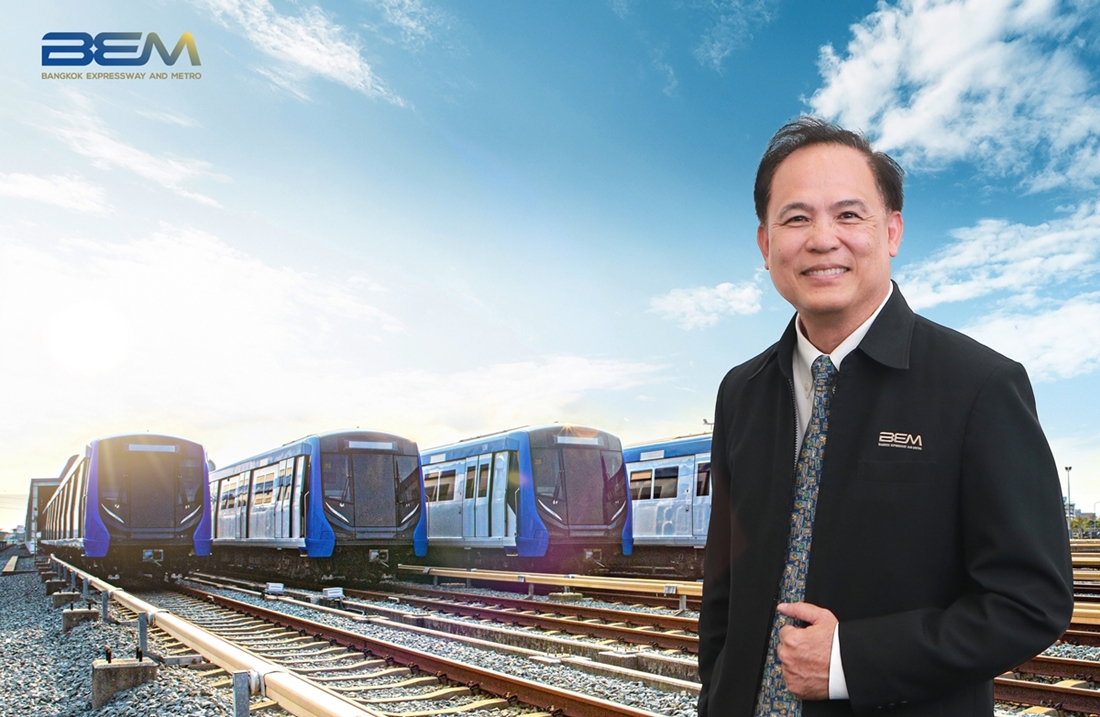 Mr. Thanawat said, "CKPower is the pioneer of renewables-based electricity generation in the region with extensive specialized knowhow.  We will provide engineering expertise for system design, installation and construction as well as comprehensive post-installation maintenance service that can also ready the venture for expansion.  The design work is expected to be completed within January 2024, and construction will start in February 2024."
The first delivery of electricity under commercial operations is scheduled for August 2024, for both the Blue Line and the Purple Line, with various other phases coming on-stream through to February 2025.
He added that "the initiative has even greater potential to assist with Thailand's transition to renewables" if other mass transit systems also adopt similar strategies and cited the example of the German rail system which is the country's largest user of renewable power.
"These initiatives are in line CKPower's 3-year goals, set in early 2022, to double in size by 2024 and increase our generating capacity from 2,000 megawatts to 4,800 megawatts, and where all our new capacity will be based on renewables, including solar, wind, and water.  Among the large power producers of Thailand, CKP has the greatest proportion of power generation capacity that is renewables-based at 93% of installed capacity," Mr. Thanawat noted.
Additional Information:
In 2022, CKPower's renewables-based power plants produced 9,767 GWh of clean electricity for Thailand, or approximately 4.5% of the nation's total domestic electricity consumption, resulting in elimination of around 5 million CO2-tons equivalent of greenhouse gases per year.
CKPower has 3,627 megawatts of installed capacity, 93% of which is renewables-based.
CKPower currently has nine solar power plants with its largest plant being Bangkhenchai Solar Power Plant located in Pak Thong Chai district, Nakhon Ratchasima province.
The International Energy Agency (IEA) estimates that by 2026 more than 95% of electricity generation investment worldwide will be in renewable energy, and that more than half of that will be solar energy. The declining costs of generating electricity from solar energy, and the fact that Thailand is located in the equatorial zone and therefore enjoys almost year-round sunshine, are making solar energy an increasingly important renewable resource from which to generate electricity.
Globally, solar power is the cheapest source of renewable energy. The demand for energy in ASEAN is expected to almost double in less than 20 years, and the transport sector is forecast to become the largest consumer of energy in ASEAN, even ahead of the industrial sector.