Thai Union Group Public Company Limited (SET: TU) joined an international coastal cleanup program to help protect the environment in Samut Sakhon province as part of its commitment to improving the health of the world's oceans.
A total of 1,306 kilograms (1.306 tons) of trash was collected by volunteers during the cleanup, including plastic bags (846 kilograms), plastic bottles (160.5 kilograms), foam (87.5 kilograms) and glass bottles (85 kilograms).
This program is part of a global campaign by the Seafood Business for Ocean Stewardship (SeaBOS) and Ocean Conservancy – known as the International Coastal Cleanup – to protect the marine environment.
Some 50 volunteers from Thai Union joined the effort, collecting trash from a local mangrove forest in Bang Ya Praek Sub-District along with staff from the Samut Sakhon local government, the Samut Sakhon Natural Resources and Environmental Protection Volunteer Network, the
Children and Youth Council of Mueang Samut Sakhon and other community teams. The trash was then separated, data collected, and taken to a local waste separation plant, where some items will be recycled and those that cannot be recycled will be disposed of in a way that does not harm the environment.
The Samut Sakhon Provincial Office of Natural Resources and Environment will also use the data collected during the cleanup for further marine debris solution planning as the goal of the activity was not just to help protect the marine and coastal resources but to also raise awareness and encourage the local community to help solve the issue of marine debris.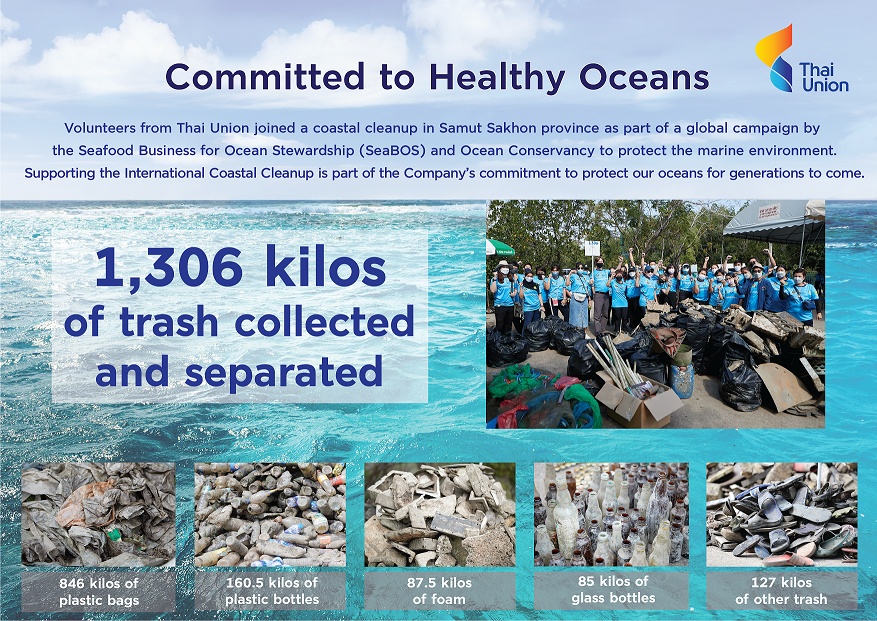 "As one of the world's largest seafood companies, we have a strong commitment to protecting the health of the oceans," said Thai Union CEO Thiraphong Chansiri, who is also Vice Chair of SeaBOS. "In fact, we've enshrined it in our corporate goal of Healthy Living, Healthy Oceans, and working to protect these precious resources for future generations is a priority for everyone at Thai Union. I am very proud to see the engagement and enthusiasm of our colleagues to support this cleanup program."
Speaking at the event, Narong Rakroj, the Samut Sakhon Governor, told attendees he was incredibly proud to support the International Coastal Cleanup, which aligned to its commitment to care for and conserve marine and coastal resources in Samut Sakhon Province.
"I'm very grateful that Thai Union is a major part of this contribution and helping drive environmental conservation works in Samut Sakhon. The collaboration between the public sector, private sector and the local community is an important mechanism for protecting our natural resources and keeping the environment healthy here in Samut Sakhon."
Wattana Pornprasart, Director of the Samut Sakhon Provincial Office of Nature Resources and Environment, noted that "Samut Sakhon Province has an area close to the coastline and connects directly to the Gulf of Thailand. People here have enjoyed a lifestyle closely connected to the environment and the ocean for a long time. We are pleased and willing to support local communities and other organizations to be a part of driving conservation and rehabilitation of nature resources and environment in Samut Sakhon."
Thai Union is a founding member of SeaBOS, which brings together the world's 10 largest seafood companies, among others, with the aim of leading a global transformation towards sustainable seafood production and keeping our oceans healthy.