The third quarter of 2021 earnings season has passed and the performance of Thailand's top three telecommunication operators for their mobile services came out nearly flat when compared to the performance in the third quarter last year, which might be the indication that the business segment has reached the saturation point.
Advanced Info Service Public Company Limited (SET: ADVANC), True Corporation Public Company Limited (SET: TRUE) and Total Access Communication Public Company Limited (SET: DTAC) are Thailand's top three mobile operators while providing other services such as broadband, TV broadcaster and digital platform in order to expand their range of businesses in information and communication technology sector.
Mobile service is the core business of these three operators, but it seems like for the past year, the business has not grown that much. In the 3Q21 financial statement, ADVANC reported a total revenue for its mobile service at 29,204 million baht, stable when compared to the same period of last year (YoY). TRUE's mobile service dropped 0.9% YoY to 19,759 million baht while DTAC dropped by 2.80% YoY to 13,978 million baht.
Meanwhile, mobile subscribers saw a single-digit growth in the third quarter by 6.6% to 43 million subscribers for ADVANC, 6.4% growth to 32 million for TRUE and 3.2% growth to 19 million for DTAC. In terms of average revenue per user (ARPU), TRUE is the only operator to record a YoY growth at 5.5%, while ADVANC and DTAC saw a decrease by 5.9% and 5.5%, respectively.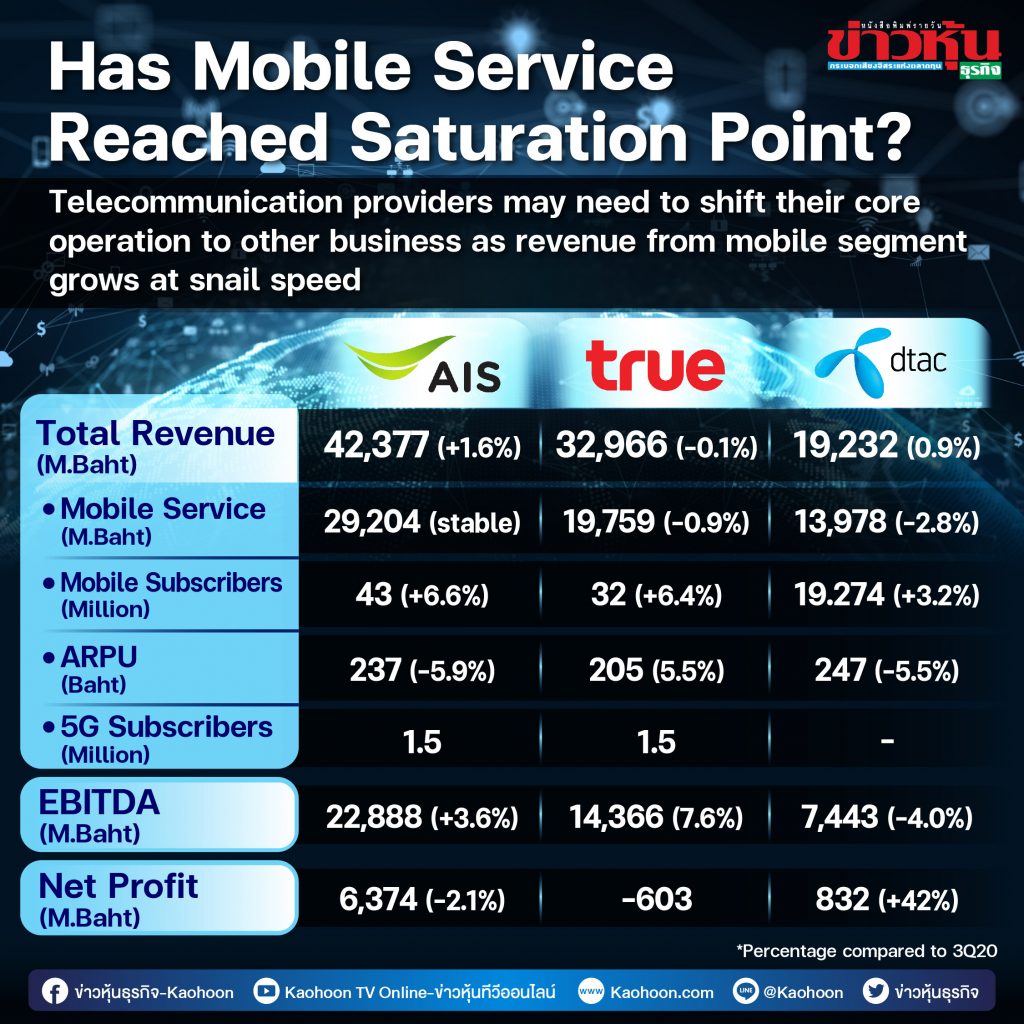 Thailand has approximately 70 million of population while three operators have around 9.5 million mobile subscribers in total, meaning that one person has more than one number. However, judging from the growth rate of subscribers, it is highly unlikely that more people will start using two or more numbers, which is why three operators are seeking to promote other services.
ADVANC, through AIS brand, provides fixed broadband service that grew 23% YoY to 2,189 million baht in 3Q21, while other services such as Cloud and data center combined for a 1,403 million baht of revenue, representing a 22% growth YoY. AIS Play, ADVANC's streaming platform, is also popular among movie lovers and also acquired the sole right in Thailand to broadcast HBO's "Game of Thrones".  More importantly, ADVANC announced in September that the company and The Siam Commercial Bank Public Company Limited (SET: SCB) will establish a joint venture with an objective to provide digital lending via an online platform to enhance the access to financial service.
Thailand's second-largest mobile operator, TRUE, has TrueOnline as its broadband business with 7.5 billion baht of revenue generated in 3Q21, increased 9.5% YoY. Meanwhile, its cable and satellite television operation – TrueVision – also holds exclusive broadcast rights to the English Premier League, other European leagues and Thai football league as well. Its digital platform, TrueID, continued to gain scale and partnerships driving double-digit revenue growth from the previous year in both consumer and enterprise markets in the third quarter.
On the other hand, the Telenor-owned operator DTAC, is still doing DTAC things, focusing mainly on mobile services. The Norwegian Telenor Group is reportedly seeking an exit from Thailand, following its business restructure.
newsweb.oslobors, a website providing information for EURONEXT, reported on November 19  that Telenor Group and Charoen Pokphand Group (CP Group) are in discussions to explore a potential merger between the telecom operations of DTAC and TRUE in Thailand. There are open issues outstanding and there is no certainty that the discussions will result in a final agreement. Telenor will not provide any further comments at this stage of the process.
The merger, if actually happened, will push the merged TRUE and DTAC to Thailand's number one mobile operators as well as acquiring a customer base and unlocking the potential for further investment in the future. However, the merger would require it to diversify the business from this saturated-mobile service. A joint venture with other top banks like what ADVANC did with SCB, perhaps.