Eastern Polymer Group Public Company Limited (EPG) has announced its 2Q21/22 consolidated financial statement through the Stock Exchange of Thailand as follows;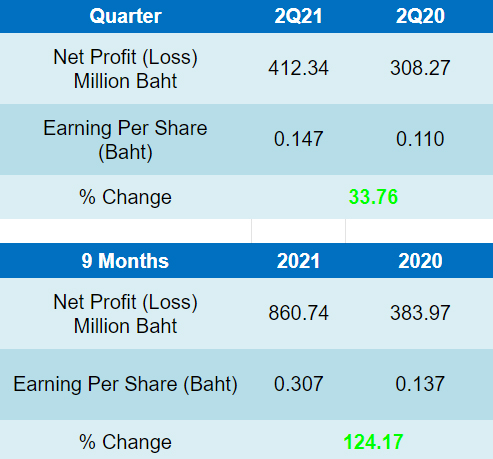 The operating result of EPG for 2Q21/22 (1 July 2021 to 30 September 2021), the company earned net profit of 412 million Baht, which was 105 million Baht increase or 34% increase from the same period of last year, as total revenue from sale of goods increased by 28% to 2,980.2 million Baht from the previous fiscal year. Furthermore, EPG has recorded a gain on exchange of 45.6 million Baht, an increase of 6.7 million Baht in the previous year due to Thai Baht depreciation against US dollars and other currencies, and has realised higher share of profit from investment in associates by 40.7 million Baht from the recovery of Global Insulation Business and Automotive Business.
In addition, the Board of Directors approved a dividend payment of 0.14 baht per unit on December 8, 2021, with an ex-dividend date on November 25, 2021.