Jay Mart Public Company Limited (JMART) has announced its 3Q21 consolidated financial statement through the Stock Exchange of Thailand as follows;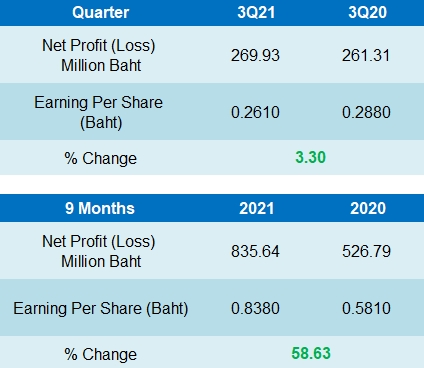 JMART reported a net profit of 269 million baht in 3Q21, increased 3.30% from a net profit of 261 million baht in 3Q20. Meanwhile, the company recorded an increase of 58.63% for its 9M21 period at 835 million baht. The record of JMART's 9M21 was higher than the full-year profit of 2020.
The company stated that the increase in net profit that pushed its nine-month period above the 2020 level was due to an improvement in operational results in the 9months period. Because of the expansion of the non-performing debt management industry and the growth of the Singer Thailand Associated Company. It has displayed remarkable growth success, including a restructured operational approach throughout the lockdown. JAS Asset's rental management company provides subsidiaries in other essential industries, such as Jaymart Mobile's mobile distribution business. There is still a positive net profit from the operation.
The management expected a positive outlook in 4Q21, stating that JMT is in the process of right offering and expects to receive funding in 4Q21. This will improve JMT's capital to acquire more bad debt in the near future.
Meanwhile, SINGER's sales are expected to be up in 4Q21 due to effective product distribution channels. There are also sales units that go deep into the community. More high-quality agents have been chosen by the company. In addition, the C4C credit portfolio has grown. SINGER is also in the process of equity fund raising through right offering and private placement. This will build a capital base to develop the loan portfolio and produce future profits for shareholders.