SISB Public Company Limited (SISB) has announced its 3Q21 consolidated financial statement through the Stock Exchange of Thailand as follows;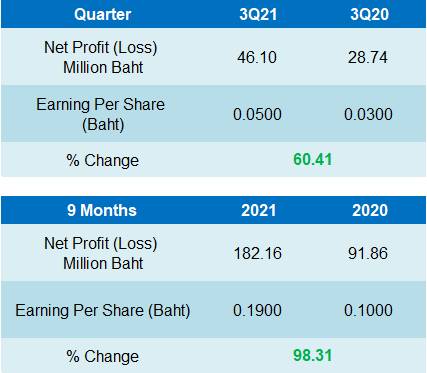 SISB reported a net profit of 46.10 million baht in 3Q21, increased by 60.41% from a net profit of 28.74 million baht in 3Q20 with a net profit margin of 17.88%.
SISB stated that the COVID-19 pandemic is resulting in an economic slowdown. This situation affected the company's business activities from the closure of the schools, and after all schools opened, the schools still activated hybrid learning, both at the schools (On-site) and Home-Based Learning, while strictly following the guidelines from the regulating agency. However, during the Home-Based Learning duration, the schools refunded snack and lunch fee during the closure period to the parents.
In the third quarter of 2021, SISB recorded a total revenue of 257 million baht, decreased slightly by 3% when compared to the same period of last year. The decrease was due to lower application and enrolment fee incomes and education equipment income.
Meanwhile, tuition and services cost in the quarter dropped by 16% from 167 million baht to 140 million baht. Administrative expenses also decreased by 5.14% from 65.10 million baht to 61.75 million baht in 3Q21. The decrease was largely due to SISB's cost management.
Additionally, the Bangkok Metropolitan Administration announced to close the construction sites, including the suspension of the construction, and restricting the travelling and transferring of the construction workers from 28 June to 27 July 2021. This resulted in a delay in the campus and education development than what was previously planned.
The new Secondary Building at Singapore International School Thonburi is expected to be fully completed by January 2022.
Meanwhile, the construction of Singapore International School Nonthaburi, which is located in Changwatthana-Ratchaphruk area is divided into two phases, with the first phase comprises Nursery-Kindergarten and Primary levels, and the second phase comprises Secondary levels. The company expected that the first phase would be ready by August 2023, which was delayed from the previously planned by a year, due to COVID-19 situation.