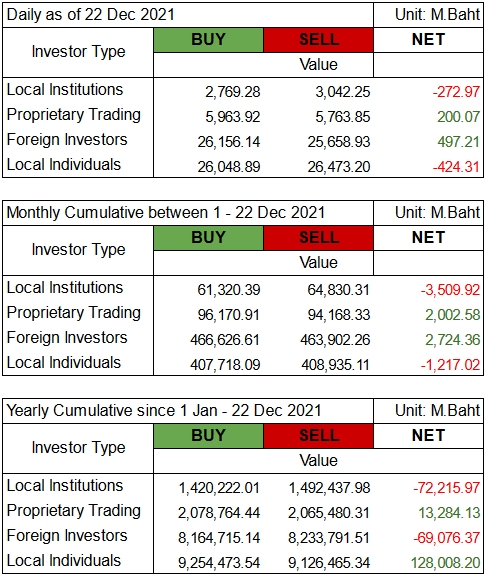 – SET Index closed at 1,626.79 points, increased 4.54 points or 0.28% with a trading value of 61 billion baht. The analyst stated that the Thai stock market moved in the same direction as the regional market, boosted by the anticipation of the stimulus plan from the government sector that will be introduced by the end of this year through 2022 into 2023.
The Monetary Policy Committee (MPC) today resolved to maintain interest rate at 0.50% and revised up the forecast for 2021 from 0.7% to 0.9% while 2022-23 GDP forecasts were 3.4% and 4.7%, respectively.
Meanwhile, the temporary halt of Test&Go measure is a negative sentiment to the market which will impact the tourism industry as well as the spreading of the omicron variant.
In addition, the analyst expected SET Index to move in sideways trends in tomorrow's session, giving a support level at 1,610 points and a resistance level at 1,640 points.
– Foreign Investors and Proprietary Trading combined a net buy of 697 million baht to buoy SET Index by 4.54 points.