Tesla's CEO Elon Musk said that Twitter's board of directors will get nothing from serving in the positions if he ever acquires the company. 
After rising to Twitter's major shareholder, holding 9% stake in the company, Musk had made a tender offer to buy Twitter at a value of about $43 billion. However, the social media platform's board of directors adopted a limited duration shareholder rights plan, often known as "poison pill" in a move to ward off potential hostile takeover.
Under Twitter's new structure, if any person or group acquires beneficial ownership of at least 15% of the company's outstanding common stock without the board's approval, it will allow other shareholders to purchase additional shares at a discount. 
Meanwhile, to Twitter's shareholders, Musk may also be considering a potential tender offer to takeover the company.
"Board salary will be $0 if my bid succeeds, so that's ~$3M/year saved right there," Musk tweeted after the new adoption from Twitter's boards.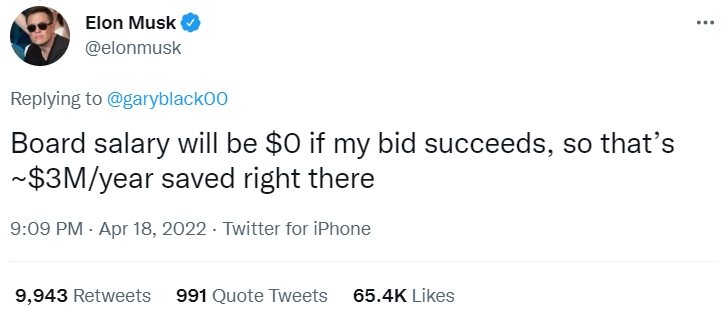 According to Twitter's filing, the company spends around $2.9 in cash and stock awards to its board of directors.