The five-year credit default swaps (CDS) of Credit Suisse rose 6 basis points to close at 248.76bps on last Friday, the highest level in 13 years on reports that the bank is looking to raise capital.
Several mistakes in these past few years that caused the company to lose billions of dollars, including the bankruptcy of Greensill and Archegos scandal, had led the share price of the bank to plunge as much as 56% this year in which the speculation of the bank going bankrupt has returned.
To avoid filing for bankruptcy, the Swiss bank is preparing to announce its strategic plan that the company said will include potential divestitures and asset sales on October 27, 2022.
However, Credit Suisse's CDS, which provides investors with protection against financial risks such as default which was used by investors for simple directional bets or to hedge sector exposure, has been surging dramatically since late last year, jumping by more than 300% from slightly under 60bps to near 250bps, getting close to 2009 levels during the Global Financial Crisis.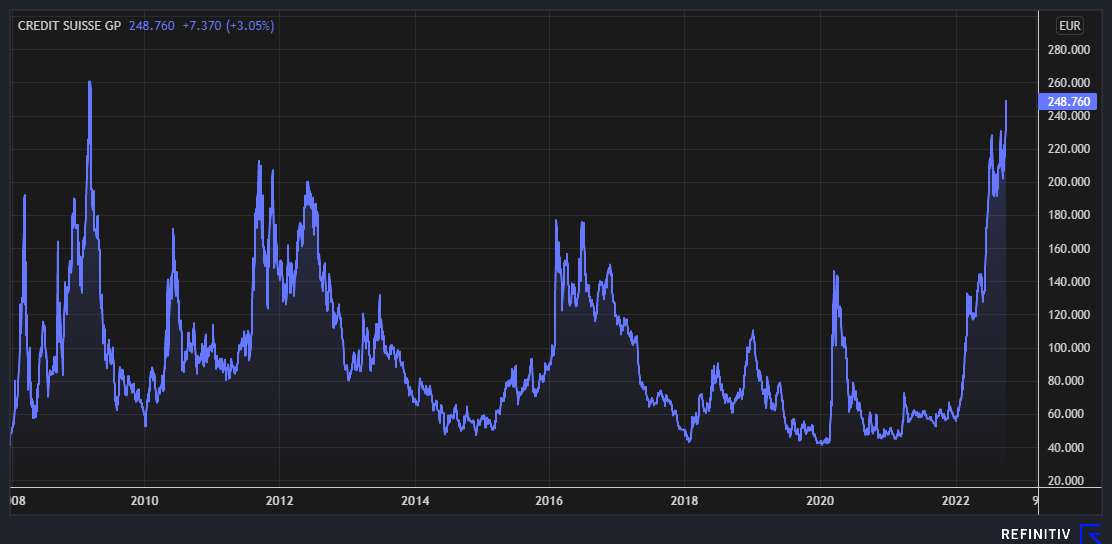 The share price of Credit Suisse closed at a record low of CHF3.82 last Thursday. The price fell significantly from above CHF14 in February last year.
After the spread of sounding out investors for a potential capital increase, the Swiss bank's chief executive Ulrich Koerner reassured that it has solid capital and liquidity.
Investopedia describes CDS as a derivative product which serves as a form of insurance against the default of the underlying borrow or debt instrument. It has been used in several ways such as speculation, hedging and arbitrage.