AP Thailand with brand promise of 'Cheevit Dee Dee Tee Lueak Eng Dai' reports record–breaking 9–month net presales again at Bht 37,455 million
Recovery of real demand in middle–to–upper segment behind strong growth in urban and suburban locations
Last quarter primed for further business headway with 27 new projects worth Bht 37,760 million in new segments and designs across all locations
SDH set to reveal trump card in form of brand–new products under latest brand MODEN for suburban detached homes of Bht 3–5 million with presale set for 3 locations
Townhome Business Group poised to increase presence with brand PLENO TOWN in new 4 models of full–function homes with 24–hour fitness targeting prospects in Ratchapruek – 345 and Lamlukka – Klong 5
Condominium market shows growth prospects with total presales tripled to Bht 8,529 million on previous year
Mr. Vittakarn Chandavimol, Chief Corporate Strategy and Creation, AP Thailand Public Co., Ltd., said that the market for residential properties in the last nine months has rebounded from its low point thanks to consistent demand for low-rise and high-rise developments in city and suburban locations as well as AP's 2022 business plan to break through every limit by making a superior difference for next normal life through developments launched across all AP brands to support all changes in response to demand from a broader target customer group. The company was able to once again break records and to record a strong growth despite challenging economic circumstances. Net presales in the first nine months of the year reached Bht 37,455 million, up 38% on the same period of last year. That constituted 75% of the presales target set for the whole year at Bht 50,000 million, which the company is confident it will definitely achieve.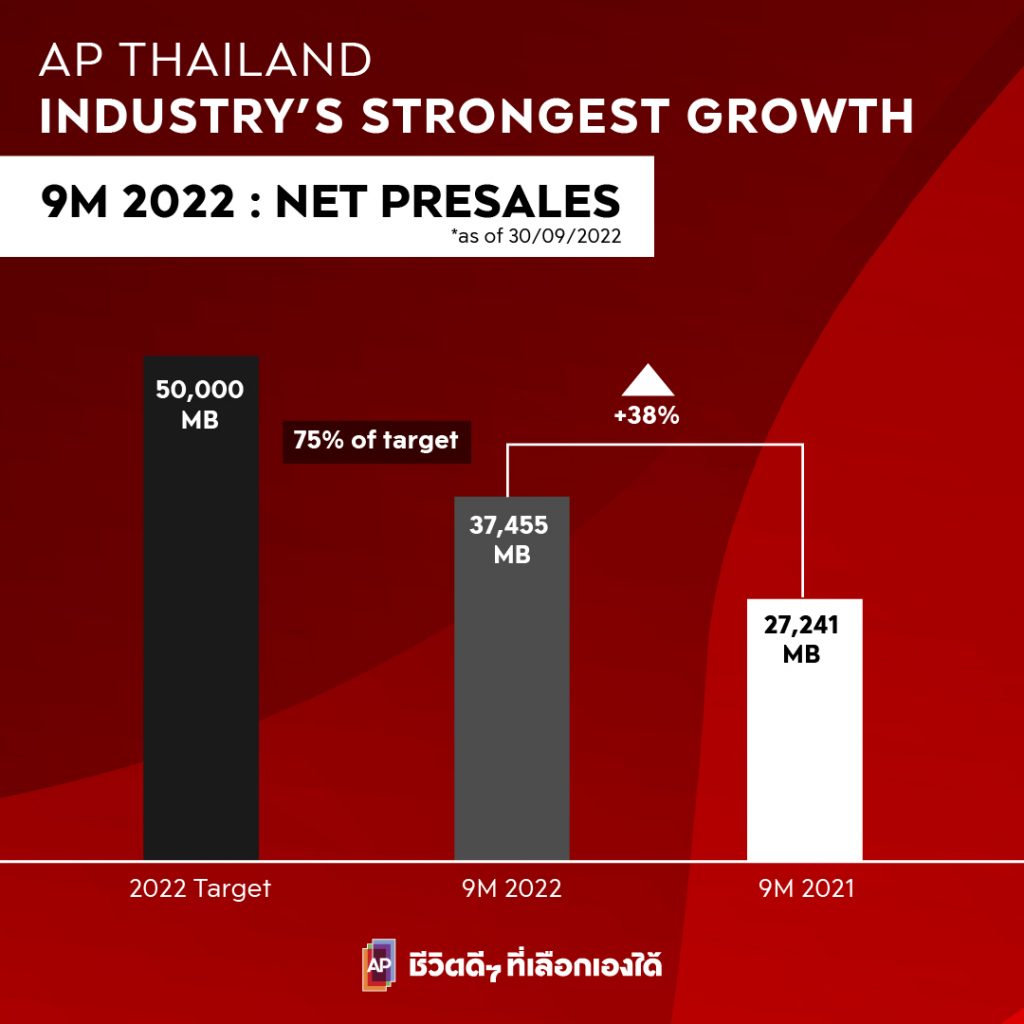 AP's Townhome and Single Detached Home Business Groups are the real leaders in the industry, commanding customer confidence as "the best first choice" in every location and every segment. Together, the low-rise businesses recorded a record growth in the last nine months with presales standing at Bht 28,926 million. New projects launched had received an overwhelming customer response. The major highlight for the first nine months was CENTRO Bangna, the company's biggest mega detached home project ever. Valued at Bht 3,500 million, CENTRO Bangna is touted as "the most complete in the area" and made history for being the best selling detached home in the Bangna zone with Bht 1,050 million worth of units sold. Another remarkable launch was BAAN KLANG MUANG Ladprao 101 Station. Valued at Bht 900 million, the project marked a grand comeback of the townhome brand in the prime location, which is only five minutes away from the MRT station right in the middle of the Ladprao area. Bht 350 million worth of units were snapped up.
The condominium business has tended to recover as evidenced from a good customer response during the presale for new ASPIRE developments in three city-zone locations with ASPIRE Pinklao – Arun Amarin worth Bht 1,200 million leading the way on 60% of all units sold. Another proof of the recovery was a growing response to AP's ready-to-move-in condominium portfolio that has recorded continued improving sales chiefly for the firm's two readily available projects LIFE Asoke Hype worth Bht 5,880 million – already 80% sold, and LIFE Sathorn Sierra worth Bht 6,250 million – 60% sold. All of this reflected a strong real-demand purchasing power for completely-built condominiums near mass rapid transit systems on offer at value-for-money prices. It resulted in AP's high-rise presales of Bht 8,529 million in the last nine months. It tripled last year's presales – a positive sign to the market.
For the final stretch of the year, the company sees that the re-opening of the country to international visitors and the healthy employment rate will keep the real estate industry growing in a better direction while helping drive other related business sectors. The company will move full steam ahead according to its business plan in the last quarter of the year when it is set to launch 27 new projects worth Bht 37,760 million. These include 24 low-rise developments worth Bht 30,860 million, two condominium projects worth Bht 6,200 million and one Bht-700-million project upcountry.
Setting off the company's exciting last-quarter highlights will be AP's Single Detached Home business group building on its success. Prepare to be impressed with THE CITY in an all-new model portfolio, luxury detached homes with massive spaces and new functions, a brand-new brand MODEN establishing a presence in the 'new life space' segment at a price range of Bht 3-5 million targeting Gen M and Gen Z in the first three locations: MODEN Rama 2, MODEN Bangna – Theparak and MODEN Bangna – Srinakarin in November.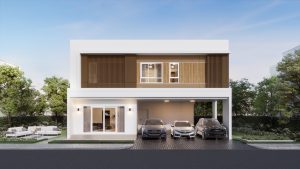 The company's Townhome business group will move forward on the roadmap to "Unlock Vertical Life" and break through every limit. Highlights will include the introduction of new-design Baan Klang Muang Sathorn – Phetchkasem at a price range of Bht 4.29-6.99 million, the launch of PLENO TOWN townhomes in four new designs in two new locations namely PLENO TOWN Ratchapruek – 345 at a price of Bht 1.69-4.79 million and PLENO TOWN Lamlukka – Klong 5 at Bht 1.69-4.49 million.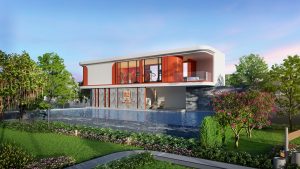 The Condominium business group is ready to debut in the last quarter the presale for ASPIRE Onnut Station worth Bht 2,700 million, a new condominium development on Sukhumvit Road, only 200 metres away from BTS Onnut station. The condominium is the epitome of ALL-IN designed for freedom in every angle of life on offer at one bedroom start Bht 129,000/square metre (or start Bht 3.59 million) – the best value in the area. The presale is scheduled for this November.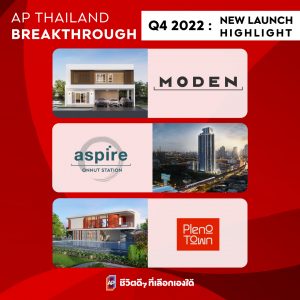 The company remains committed to the main mission to deliver Cheevit Dee Dee Tee Lueak Eng Dai with foolproof business plans, resilience, centralised management and cautious cashflow control.