Credit Suisse is reportedly cutting at least a third of its debt sales positions globally as part of its restructuring program, which would result in thousands of job cuts along with a new strategic plan that would significantly downsize its investment banking and trading business.
However, its share prices had plummeted to record low at CHF2.70 at the closing on December 1, 2022, as earlier capital increase of news shares at CHF2.82 for nearly 890 million shares were seen as risks that underwriting banks might be holding unwanted shares.
Meanwhile, the five-year credit default swaps (CDS) of Credit Suisse that sparked a huge selloff in October continues to increase, rising from around 250bps in early October to 441bps as of November 30, 2022. Credit Suisse's CDS saw a sharp increase at 700% so far this year, rising from 55bps on January 4, 2022.
Investopedia describes CDS as a derivative product which serves as a form of insurance against the default of the underlying borrow or debt instrument. It has been used in several ways such as speculation, hedging and arbitrage.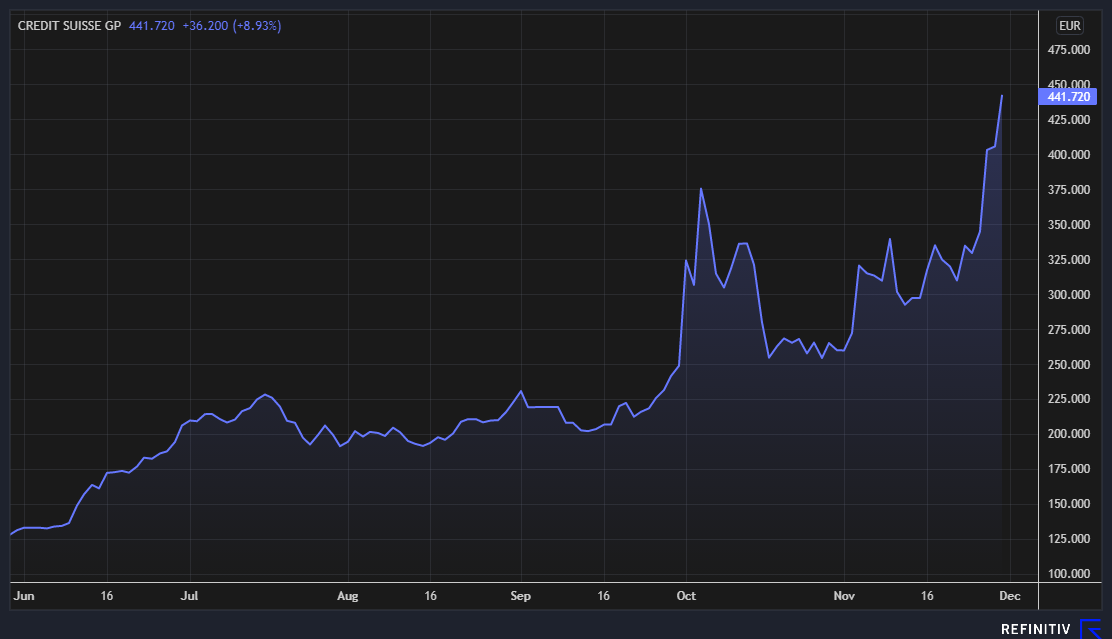 The Swiss bank reported late October a net loss of CHF4.03 billion for its 3Q22 earnings performance, a huge plunge compared to only CHF504.9 million of net loss estimated by analysts. The loss was well below a CHF434 million of profit the bank made in the same period of last year.
The firm projected CHF1.5 billion of loss in the fourth quarter of this year as the Swiss bank undertakes a major strategic overhaul to rebuild investors confidence after several mistakes in these past few years that caused the company to lose billions of dollars, including the bankruptcy of Greensill and Archegos scandal
The share price of Credit Suisse has plunged 68% so far this year.