Concerns over financial stability of Credit Suisse have returned amid the banking crisis in the U.S., while the Swiss bank also reported that it found material weaknesses in its financial reports.
The share price of Credit Suisse fell 16% on Wednesday after the bank finally revealed its observation on the annual reports that were scheduled for last Thursday but got delayed by the U.S. Securities and Exchange Commission (SEC).
Credit Suisse and other several banks were halted from trading due to the steep losses.
The Swiss bank disclosed in the statement, saying that  it found certain material weaknesses in its internal control over financial reporting, which related to the failure to design and maintain an effective risk assessment process to identify and analyze the risk of material misstatements, including various flaws in internal control and communication.
Credit Suisse has been embattled with several issues, resulting in billions of dollars of losses, which led to an announcement of a major overhaul late last year.
Credit Suisse Chairman Axel Lehmann said on Wednesday that government assistance is not a topic for the Swiss bank. The company is now seeking to shore up confidence among clients, investors and regulators after a series of missteps in the past few years.
Despite the chairman trying to calm the market, traders were bidding against Credit Suisse as its 5-year Credit Default Swap shot up to a record high on Wednesday, topping its previous peak in 2022.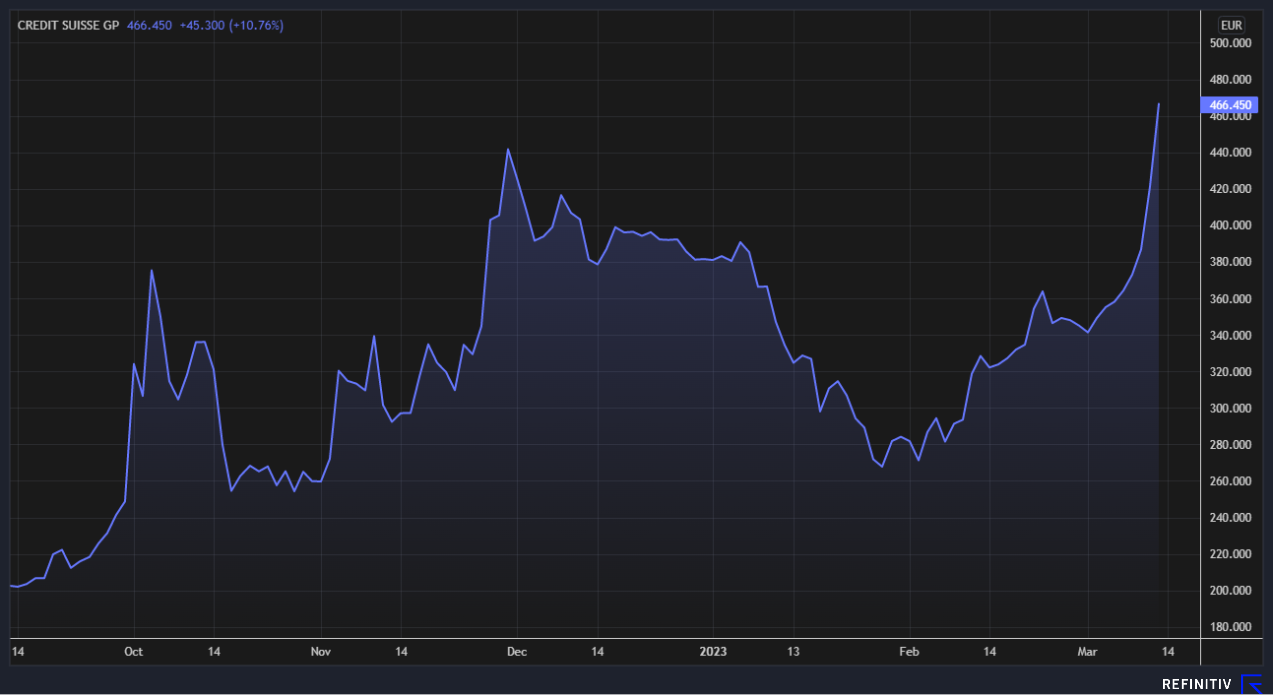 Investopedia describes CDS as a derivative product which serves as a form of insurance against the default of the underlying borrow or debt instrument. It has been used in several ways such as speculation, hedging and arbitrage.
Credit Suisse reported a huge loss of 1.4 billion Swiss francs ($1.51 billion) in the fourth quarter, higher than the 1.14 billion Swiss francs expected by the market, as the second largest bank in Switzerland moving forward with its major strategic overhaul and an underperforming investment banking segment, taking full-year bottom line to a loss of 7.3 billion Swiss francs
Clients were withdrawing assets worth $120 billion in the fourth quarter last year as the bank went into a restructure. Executives pulled off a $4 billion capital raise late last year to fund for the shape up, and are shedding as many as 9,000 jobs. The bank projected that it will regain profitability by 2024.
Yesterday, several media reported that Credit Suisse would cut the bonus pool of its employees in half and pay it in three installments.