The share price of PTT Oil and Retail Business Public Company Limited (SET: OR) has been moving slightly above and below its IPO level of THB18.00 per share since late September.
OR once saw its share price rising to the highest level of THB36.50 per share in the early days of its first trading days in 2021. However, shaky economic conditions during the Covid-19 pandemic and a slowdown of consumption afterward had caused the performance to decline from its peak. Once economic activities returned, the world was hit by the Russia and Ukraine war that spiked oil prices, but it posted a negative sentiment to OR due to control measures from the Thai government on marketing margin.
Despite revenue and profit recovering from the pandemic, the share price of OR continues to decline as the market saw smaller numbers at the bottom line in the first half of this year. The company said that the decrease was mainly due to lower average selling prices following the lower global oil prices which goes against the increase in sales volume, especially aviation fuel that took a huge leap from only 7.6% in the total volume sold by products to a little over 12%.
The share price is now trading near its IPO level in 2021, but fundamentally, OR underlines significant growth in revenue, net profit and assets when compared to that time.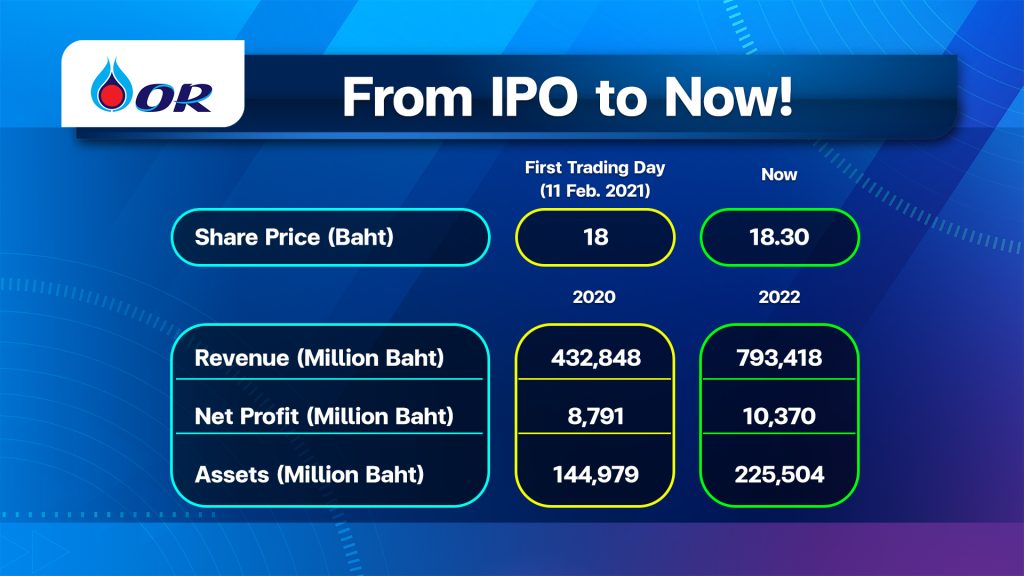 OR is the largest seller of jet fuel in Thailand, while its cooking gas under the LPG business also holds the majority of market share over 45% in Thailand.
Even though oil sales have been OR's bread and butter since the beginning of time, the company made it clear in recent years that it would diversify to non-oil business for its new S-curve.
Cafe Amazon, which is a flagship of OR's lifestyle business, saw an increase by 60 outlets domestically in the second quarter of this year when compared to the first quarter, while total cups sold increased by a small margin of 2%. Sales and Services of the lifestyle business also saw nearly 10% growth in revenue, reaching 11,000 million baht in the first half.
OR also expands its business internationally as well with stations and Cafe Amazon in the Philippines, Cambodia, Laos, Vietnam and China that sees gradual growth.
The company is also expanding into other retail business, including health and beauty business by using its large area at the station for advantage, not to mention having the highest number of stations in Thailand.
With all these expansions, it is a wonder to public eyes why the share price does not grow in line with its business. Could it be that the stocks have yet to realize OR's true valuation as the market is still concerning solely on its oil business, which is not what the company is pushing for right now?